Cliquez pour élargir ; Click to enlarge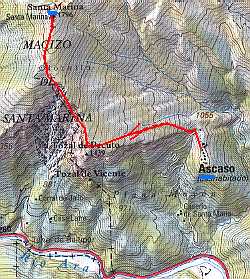 Santa Marina 1796 m
13/04/02



Il y a parfois dans ces lieux inconnus et délaissés, de pures merveilles. Dans ce mythique pays du Sud du Mont Perdu, la Santa Marina en fait partie. Au départ d'Ascaso, le plus authentique et attachant village du genre qui soit, cette montagne au premier abord sans attrait particulier, nous mène au panorama le plus complet et parfait du massif Mont Perdu, avec toutes ses particularités, canyons et cîmes.

Sometime there are, in these unknown and forgotten places, some pure wonders. In this mythic country of South Mont Perdu, Santa Marina belongs to them. Starting from Ascason, the most authentic and lovable village of this kind, this uninteresting hill at first sight, leads us to the most complete and perfect panorama of the Mont Perdu massif, with all its features, such as canyons and tops.