Cañon de Anisclo

---
Le Cañon d'Anisclo est comme son som l'indique, une gigantesque entaille fendant le versant Sud du Massif du Mont Perdu, mais d'une manière beaucoup plus brutale que Gavarnie ou Pineta. C'est une véritable gorge toute en méandres. Les premières photos sont d'une sortie brumeuse au mois de Mars, les autres de mes parents durant l'été.
The Cañon of Anisclo is, as its name shows, a wide crack tearing the South slope of the Mont Perdu massif, but with a much more brutal way than Gavarnie or Pineta. It is a real gorge, all in turns. The first pictures are from a misty trip last March, the others from my parents who went there in summer.

---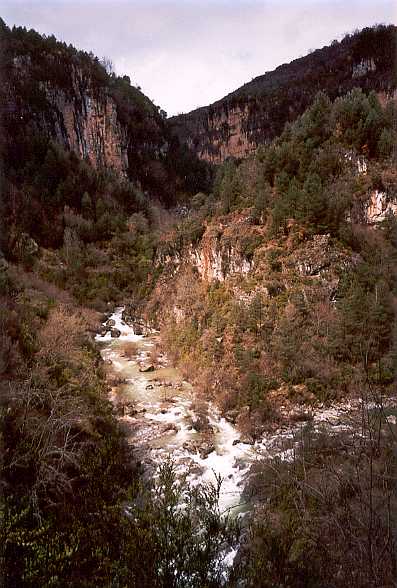 Vue sur la bouche du Cañon, avec le Mondotó et le Sestrales, ses flancs gauche et droit tout étagés, et le Rio Aso.
Looking to the entrance of the Cañon, with the Mondotó and the Sestrales, its left and right sides all sliced, and the Rio Aso.
---

Le Rio Bellos, qui n'est autre que le courant principal au fond d'Añisclo, et les parois du ravin.
Rio Bellos, which is nothing else than Añisclo's bottom main stream, and the steep walls of the ravine.
---



Depuis la chapelle près de Vio, vue sur la gueule béante du monstre, et le Sestrales à droite. Cliquez pour élargir.
From the chapel near Vio, view to the gaping mouth of the monster, and the Sestrales on the right. Click to enlarge.
---



Le même panorama, mais cette fois ci avec un appareil numérique et un logiciel d'assemblage de panoramas...
The same panorama, but this time with a digital camera, and a panorama maker software...
---

Une petite foule sympathique vous accueille à ce point de vue.
A little crowd is welcoming you near this viewpoint.
---

Vue en amont, avec au fond les Tres Marias, plus communément appellées les 3 soeurs de la Sierra de la Suca, et le Mondoto, l'équivalent du Sestrales versant Ouest, mais plus petit et tout en rondeurs.
Looking forward, with the Tres Marias in background, more commonly called the 3 sisters of the Sierra de la Suca, and the Mondoto, the equivalent of the Sestrales on the West side, smaller and all round-shaped.
---

Vue en aval, avec un torrent paradisiaque. On apperçoit derière le versant le massif du Cotiella avec la Peña de las Once tout à gauche, ainsi que la Peña Montañesa.
Looking backwards, with a fairy like pool. We notice behind the side the massif of the Cotiella with the Peña de las Once all in the left, as well as the Peña Montañesa.
---
Autres Pages - Other Pages
Ascensions - Climbings
Contact