Pic de Bastan, 2715 m
30/10/00
Cliquez pour élargir ; Click to enlarge

---
Une tempête sévissait côté Espagnol, et je dus à mon grand regret annuler le Cotiella. Quelqu'un au refuge ayant alors consulté quelque répondeur météo Français, la rumeur de conditions meilleures s'était répandue. De toute façon il n'y avait rien à perdre. Voulant faire découvrir le charme sauvage du Néouvielle à l'aide d'une randonnée facile à mes parents, je me souvins que les Lacs de Bastan visités en Juillet dernier étaient accessibles par le Col de Portet.

A storm was all over the Spannish side, and I had to give up with regrets the Cotiella. As someone in the refuge consulted some French weather answering machine, the rumour of better conditions had spread. There was anyway nothing to lose in trying. As I wanted to make my parents discover the wild charm of Neouvielle with en easy walk, I remembered that the Lakes of Bastan visited last July were accessible from the Col of Portet.
---

Un terrible vent d'Autan soufflait au départ et nous glaça jusqu'à ce que nous ayons contourné les versants herbeux du Montarouyes.
A terrible wind of Autan (from Spain) was blowing at the start until we had circumvented the grassy slopes of the Montarouyes.

---

Nous atteignons successivement le lac inférieur de Bastan (au fond: le Vallon d'Estibère), puis le lac principal.
We reach first the inferior lake of Bastan (in the back: the Estibère Valley), then the main lake.

---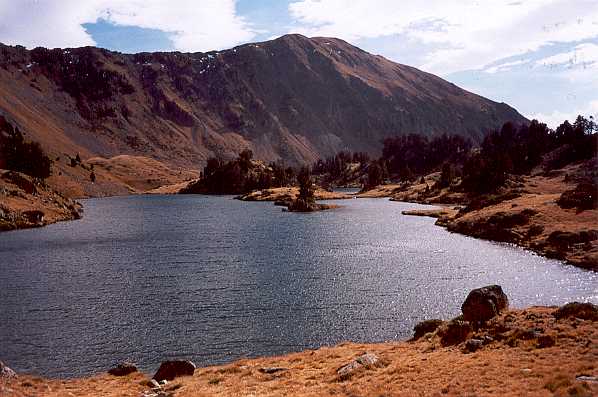 Le lac principal, ou "de l'ile", surplombé par les Pics de Bastan et du Portarras. Nous mangeons ici.
The main lake, or the "island lake", overlooked by the Peaks of Bastan and Portarras. It is lunch time.

---

Le lac supérieur, puis le lac de la Hourquette depuis le col de Bastanet. J'ai pris une photo identique en Juillet.
The superior lake, then the Lac de la Hourquette from the col of Bastanet. I took an exactly similar picture last July.

---

La dernière montée du Pic de Bastan qui nous attend au Col de Bastanet, et les lacs de Bastan vus d'ici.
The last ascent to the Pic de Bastan waiting for us at the Bastanet Col, and the Bastan lakes seen from there.

---

Nous n'atteindrons malheureusement pas les quelques rochers qui constituent le vrai sommet, entre lesquels subsistent de traitres plaques de glace. Mais voici une fantastique vue du Lac de Port Bielh et de la Hourquette Nère, qui mène au Vallon d'Aygues Cluses. A droite, le lac de la Hourquette.
Unfortunately we won't reach the few rocks on which lie the real summit, between whose are remaining treacherous patches of ice. But here is a fantastic view to the Lac of Port Bielh and the Hourquette Nère col, leading to Vallon d'Aygues Cluses. On the right, the lac de la Hourquette.

---

Tel fils, tel père. Aaah, la photographie...
Such a son, such a father. Aaah, photography...

---



Le même panorama photographié par nous deux (c'est Veronika qui NOUS a pris !) vers les Pics Campbiel, Long, et Néouvielle, et l'entrée du Vallon d'Estibère.
The same panorama pictured by both of us (it is Veronika that took US !) to the Peaks Campbiel, Long, and Néouvielle, and the entrance of the Estibère glen.

---



Sur le chemin du retour, le soleil rasant illumine un dernier temps les pics de Thou et Lustou près du Col de Portet.
On the way back, the grazing sun is illuminating a last time the peaks of Thou and Lustou and Gourgs Blancs near the Col of Portet.

---



Alors que nous rangeons sacs et vêtements dans la malle qui ne cesse de se refermer à cause du vent, un curieux phénoméne se produit juste au dessus du Serre de Courteillès et la Vallée d'Aure, lorsque les derniers rayons ont dépassé nos têtes.
As we put back clothes and rucksacks in the car boot that keep shuting with the wind, a curious phenomenon happens just over the Serre de Courteillès and the Aure Valley, as the last rays of light just overtook our heads.

---



Les Monts de Peyresourde rouge ocre sont éclairés comme par des projecteurs...
The red Peyresourde hills are lightened like by projectors...

---



... alors que nuit et mauvais temps arrivent, sur le Pic de Néouvielle, lugubre.
... while as night and bad weather arrive on the lugubrious Pic de Néouvielle.

---
Nous n'avons pas atteint le sommet ce jour là mais ce sera chose faite dans 5 ans. Allez voir ici !
We haven't reached the summit that day, but it will be done in 5 years. Have a look here !
---
Autres Ascensions - Other Mountaineerings
Pyrénées...
Liens - Links
Contact