Campbiel
3174 m ; 28/09/02

Cliquez pour élargir ; Click to enlarge

Le Campbiel a l'avantage de faire partie des plus hauts sommets Pyrénéens, presque à 3200, avec une facilité d'accès exceptionellement aisée, ci ce n'est le lac de Cap de Long à longer. Avec le panorama qui en résulte, voila un magnifique sommet à randonneur. Etant donné que nous devions le faire en Juin dernier dans la foulée d'Estaragne avant d'être piégés par un violent orage, j'y suis revenu cette fois ci avec mon père, qui monta pour la première fois à 3000 m.

The Campbiel has the advantage to belong to the highest Pyrenean summits, near 3200, with an exceptional easiness of access, perhaps excepted the walk along the Cap de Long lake. With the resulting panorama, here is a fine summit for the walker. Since we had to do it last June, in the same time than the Estaragne before beeing trapped by a storm, I came back this time with my father, who climbed for the first time until 3000 m.
---



Au lever du soleil le long du lac: le Ramoun, le Pic de Néouvielle et son arête des Trois Conseillers sont enflamés.
At the sunrise along the lake: the Ramoun, the Néouvielle Peak and its Trois Conseillers ridge are burning.
---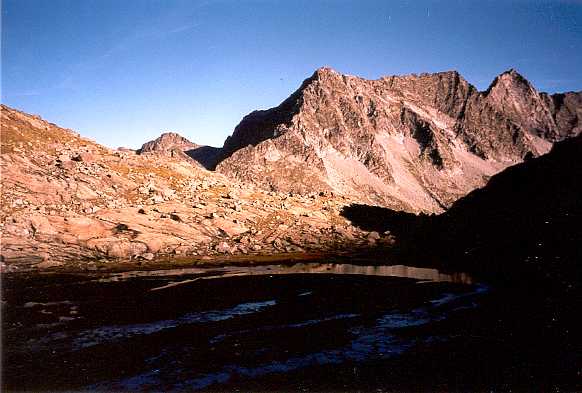 En remontant le vallon de Cap de Long. Le réveil fut matinal, comme en témoignent les expressions sur les visages !
Climbing up the Cap de Long glen. The wake up was early, as expressions on the faces show !
---

Vue sur notre Campbiel, à contre jour, et sur le Néouvielle et le Pic du Midi en fond.
View to the Campbiel, behind the sun, and to the Néouvielle with Pic du Midi behind.
---

Le Pic Long, et l'Estaragne, derrière le col où nous avions battu en retraite en Juin.
The Pic Long and the Estaragne, behind the col where we were defeated in June.
---

Fantastique panorama sur le massif du Mont Perdu, et des sommets de Gavarnie, dont le Casque, et plus bas, le Piménée. Cliquez pour élargir.
Fantastic panorama to the Mont Perdu massif, and the Gavarnie summits, including the Casque, and lower, the Piménée. Click to enlarge.
---



Vent glacial au sommet, nous ne nous attardons pas. Le temps est tellement clair que l'on distingue la Montagne Noire au Nord-Est, le Pic d'Anie à l'Ouest, et même la Sierra de Moncayo, de l'autre côté de l'Ebre, au Sud ! Ce chien, avec lequel nous nous sommes pris en photo, appartenait à un autre randonneur. Ces animaux sont normalement interdits dans le Parc National, mais ce pauvre caniche semblait en avoir tellement bavé, que sa présence fut sans nul doûte inoffensive, et inspira la sympathie à tous.

Freezing wind on the summit, where we won't stay long. Weather is so clear that we can watch the Montagne Noire on the North-East, the Pic d'Anie on the West, and even the Sierra de Moncayo, on the other side of Ebre river, in the South ! This dog, with who we were taken on the photo, belonged to another walker. These animals are normally forbidden in the National Park, but this poor caniche seemed so knackered, that its presence was undoubtly inoffensive, and inspired sympathy to everyone.
---
Une autre ? Faites l'ascension de 2005...
Another one ? Let's do the trip of 2005...
---
Autres Ascensions - Other Mountaineerings
Pyrénées...
Contact