Mondotó
1962 m ; 31/05/03

Cliquez pour élargir ; Click to enlarge



Où se situe le Mondotó ? Rebord du Ouest du Cañon d'Añisclo, c'est "l'anti-Sestrales", à la différence près qu'il est un peu moins haut, et que seul son rebord face au gouffre est escarpé. L'autre n'est que son dos arrondi, couvert de la végétation méridionale épineuse typique du coin, et facilement gravissable en 700m de dénivellée depuis Nérin. A condition de ne pas perdre le chemin, chose aisée malgré l'irréprochable balisage ! Le chemin en vaut le détour, car le point de vue y est à mon avis plus intéressant que du celui du Sestrales.

Where is located the Mondotó ? West edge of the Cañon d'Añisclo, it is the "anti-Sestrales", with the only différence that it is a little smaller, and its only slope facing the gap is steep. The other one is only its round shaped back, covered of the typical local meridional vegetation , and easily climbable in 700m of ascent from Nérin. In the condition of not losing the path, easy to do despite perfectly marked all along ! Getting there is well worth it, since the viewpoint is better then the Sestrales's one according to me.


---

Le village de Nérin, peu après un départ convivial sur ce sentier sympathique.
The village of Nérin, soon after a fine start on this nice path.
---

Plus haut, les touffes se raréfient, tous les espaces autour ressemblent au sentier. Nous nous égarons et finissons par suivre le cours d'eau central asséché. Heureusement, celui-ci ne tarde pas à redevenir le sentier, qui donne sur un pâturage.
A little further, the bush is getting sparse, all the spaces around begin to look the same than the path. We get lost and finish following the central dry bed of the stream. Luckily, soon after this one becomes the path itself again, that leads to a pasture.
---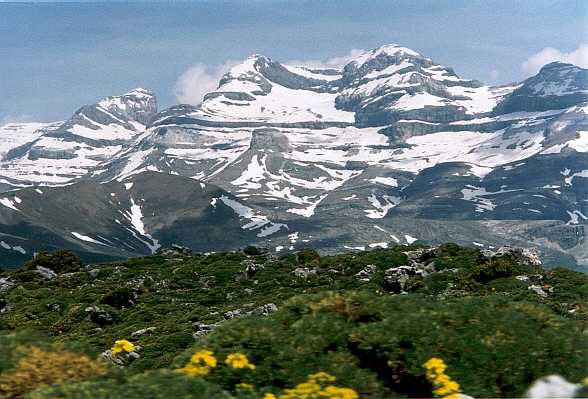 Les "Tres Sorores" (les trois Soeurs), ou Sierra de la Suca, puis les "Tres Marias" (les trois Maries), qui ne sont rien d'autre que le Mont Perdu, et ses acolytes le Cylindre et le Soum de Ramond.
The "Tres Sorores" (the three Sisters), or Sierra de la Suca, then the "Tres Marias" (the three Mary), which are nothing else than the Monte Perdido, and its fellow the Cylinder and the Soum de Ramond.

---

Le vertigineux Cañon d'Añisclo, en amont, jusqu'à son col sommital du même nom, puis en aval.
The vertiginous Cañon d'Añisclo, looking upstream, until its same name's summit col, then downstream.
---

La pointe Sud du Sestrales, "El Fraile", et gros plan sur le Mont Perdu. Stuart, Anglais, dont c'est la 3e ou 4e venue dans les Pyrénées, déclarera: "Cette montagne, c'est extraordinaire. Je n'ai jamais rien vu de tel". Une autre preuve, parmi tant d'autres, que le Mont Perdu est une montagne à part, qui accroche le regard, qui marque, qui interpelle.
The South end of the Sestrales, "El Fraile", and big view to the Monte Perdido. Stuart, from England, whose stay in the Pyrenees is the 3rd or 4th, said "This mountain is extrardinary. I never saw something like that". Another proof, amongst so many others, that the Monte Perdido is really a special mountain that focus our attention, our curiosity.
---
Autres Ascensions - Other Mountaineerings
Pyrénées...
Contact