Bivouac sur la Roche de Vassivière
Bivouac on the Vassivière Rock
1673 m ; 13/05/01
Cliquez pour élargir ; Click to enlarge

---
Dès la soirée du Samedi, une fois la canicule tombée et la fatigue laissée sous un parasol de la terrasse du "bout du monde" à Mandailles, je me redirige vers Liadouze pour monter au le Col du Griounou, puis le long des crêtes pour aller bivouacquer sur quelque cîme.

As soon as Saturday night, once the scorching heat down and tiredness left under an parasol at the "bout du monde" bar in Mandailles, I come back to Liadouze in order to climb to the Griounou col, then along the ridges, finding some bivouac place on some top.
---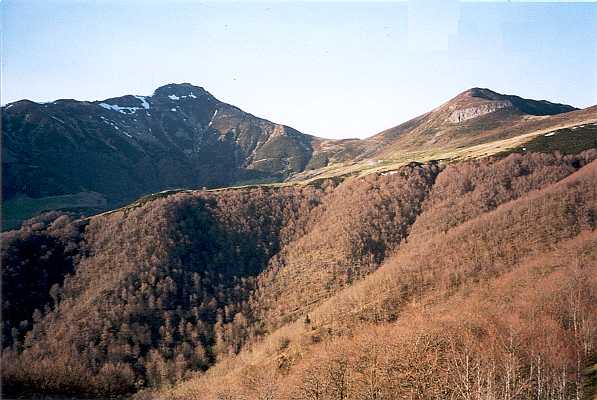 En sortant du GR vers Liadouze, un PR monte vers le Puy Griou. Le soleil, encore haut innonde la vallée de la Jordanne des rayons du soir.
Leaving the GR near Liadouze, a PR goes up near the Puy Griou. The sun, still heigh, overflows the valley of Jordanne with an evening light.
---

En arrivant au Col de Cabre, la lumière s'abaisse de plus en plus. Le Bec de l'Aigle apparait dans l'autre versant.
Arriving to the Col de Cabre, light goes lower and lower. The Bec de l'Aigle appears on the other side.
---

Le Plomb du Cantal, éclairé d'une lueur orangée.
The Plomb du Cantal, lightened in orange.
---

Le soleil, que l'on ne voit déjà plus, est probablement en train de se coucher et le Plomb rougit à présent.
Sun, that we aleady can't see, is probably going down, and the Plomb becomes red now.
---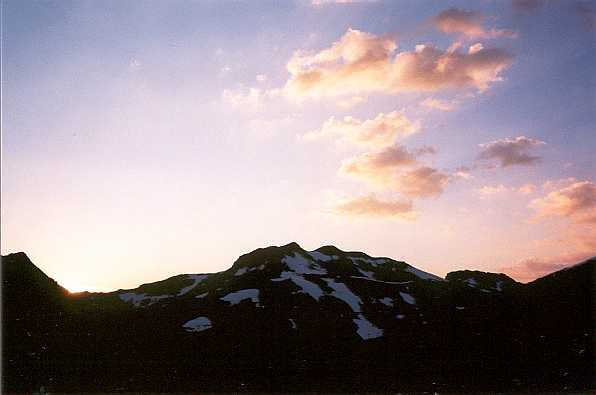 Le Puy de Peyre Arse en contre-jour.
The Puy de Peyre Arse from opposite.
---

Je plante ma tente près du cairn de la Roche de Vassivière, et nous voila déjà au matin, après une nuit claire et sans vent. Le soleil n'est pas encore apparu à l'Est, et des nuées innondent les alentours de Murat. Les alentours du Puy de Seycheuse, recouverts de bruyère, ont des allures de Cairngorms.
I set my tent near the cairn of the Roche de Vassivière, and here we are in the morning, after a clear night without wind. Sun hasn't appeard yet on the East, and mist overflows the surroundings of Murat.
---

Les cîmes comencent à se colorer en rose de l'autre côté. Cliquez pour élargir.
Tops begin to colour in pink from opposite. Click to enlarge.
---

L'apparition du soleil est à présent imminente.
The appearing of the sun is now imminent.
---

6h 37. La journée commence !
6h 37 am. A new day starts !
---




Les Monts se parent de rose avant d'arborer une teinte malheureusement de plus en plus normale au fur et à mesure que le soleil monte...
The mounts get covered of pink before wearing unfortunately a more and more normal colour while sun is going up...
---

Mêmes vues aux mêmes instants sur le Puy Griou et l'Elancèze.
Same views at the same moments on the Puy Griou and the Elancèze.
---

Redescente directe à la gare du Lioran par le sentier escarpé du Bec de l'Aigle, vu ici sous l'angle qui justifie le mieux son nom.
Climbing down directly to the Lioran station by the steep path of the Eagle's Beak top, seen here at the angle matching its name the most.
---
Autres Excursions - Other Excursions
Contact