Bec de l'Aigle 1700 m ; The Eagle's beak
Puy Bataillouse 1683 m
Col du Gliziou; 10/01/01
Cliquez pour élargir ; Click to enlarge

---
Ma première sortie de 2001 inaugura ma paire de raquettes fraichement acquise des soldes, et ma découverte de la Gare du Lioran, sur une ligne de chemin de fer légendaire, ce qui me permit ce week end au grand air et pour peu de frais depuis Paris grâce au train de nuit. Le wagon arrivant en gare du Lioran à 6h28 du matin, je mis à profit cette avance en m'enfonçant, déjà en raquettes et avec lampe frontale, dans la forêt glaciale. Ceci pour bénéficier du lever de soleil à la lisière supérieure sur les crêtes. Pari réussi ? Je vous laisse en juger...

My first trip of 2001 inaugurated my pair of snowshoes recently bought from the off sales, and my discovering of the Lioran Station, located on a legendary railway, which allowed me this week end in the fresh air, and for cheap from Paris by the night train. As the wagon stopped at the Lioran station at 6h28 AM , I made profit of this advance by penetrating the freezing forest, already snowshoes on and with headlamp. This in order to benefit from the sunrise at the upper forest border on the heights. Successful enterprise ? Have a look...
---

Derrière ce morceau du massif du Plomb, innondé par une mer de nuages, le soleil n'est pas encore apparu, tandis que la lune s'efface.
Behind this part of the Plomb massif, flooded my a sea of clouds, the sun hasn't appeared yet, while the moon disapears slowly.
---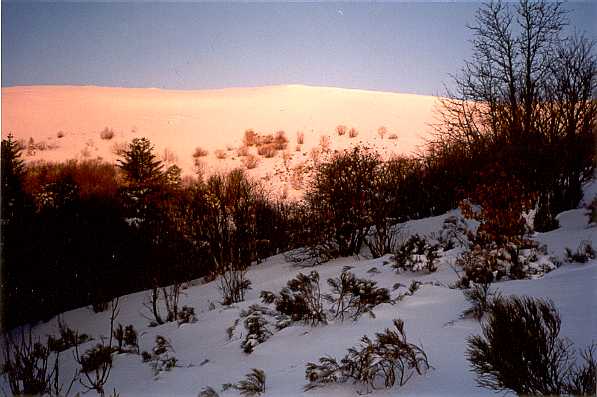 Les premiers rayons rose saumon caressent les cîmes avant d'allonger les ombres de la végétation rase sur mon chemin, totalement immaculé.
The first rays of light caress the tops before they spread the shadows of the rugged vegetation on my way, completely immaculate.
---


En franchissant un ressaut sur le grand plateau en V de Vassivière, le regard porte soudain plus loin, jusqu'au Puy de Seycheuse et les hauteurs de Laveissière, avec le Cézallier en fond. Tout le Cantal est habillé d'un épais manteau que le vent a sculpté durant la nuit telle la marée basse sur le sable. Cliquez pour élargir.
While reaching a top on the wide V shaped plateau of Vassivière, sight spreads suddenly much further, until the Puy de Seycheuse and the heights of Laveissière, with the Cézallier in background. All the Cantal is dressed with a thick white costume, that wind sculpted during the night as low tide does on sand. Click to enlarge.
---

Tandis que le soleil continue de monter, la lumière vire à l'orangé puis au jaune sur la mer de nuages qui s'étend à nos yeux. Cliquez pour élargir.
As sun keeps rising, the light changes into orange then yellow on the sea of clouds that lies under our eyes. Click to enlarge.
---

Nous sommes sur le rocher du Bec de l'Aigle, point culminant du plateau de Vassivière et de cette randonnée. Il fait tellement froid que je ne sens plus mes mains ni mes pieds. Celà ne m'empêche pas de prendre ce zoom du Massif du Sancy sans trembler, que l'ont voit aussi à gauche derrière le Puy de Seycheuse. Cliquez pour élargir.
We are on the rock of the Eagles's Beack, highest point of the Vassivière plateau and this trip. It is so cold that I don't feel my hands neither my feet. But this doesn't empeach me to take this zoom on the Massif of Sancy in background without moving, that we also see on the left behind the Puy de Seycheuse. Click to enlarge.
---

Plus loin sur la crête vient le Puy Bataillouse (voir panorama similaire pris l'été), et c'est le Cantal de l'Ouest à son tour que l'on découvre, avec les pics des Puys Griou, Mary et Peyre Arse. Cliquez pour élargir.
Furher on the ridge comes the Puy Bataillouse (see similar panorama taken in summer), and it is Western Cantal that we discover right now, with the peaks of the Puys Griou, Mary and Peyre Arse. Click to enlarge.
---

Un peu plus loin en se dirigeant vers le Puy Griou, panorama sur la Vallée de la Jordanne. Cliquez pour élargir.
A bit further while leading to the Puy Griou, panorama on the Valley of Jordanne. Click to enlarge.
---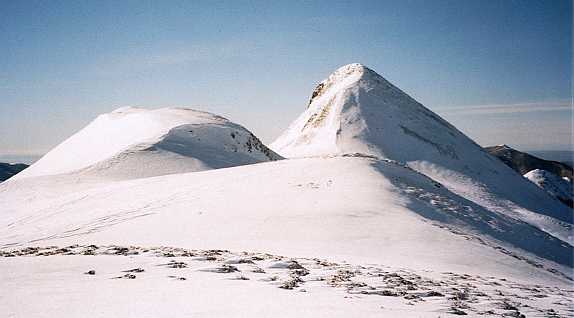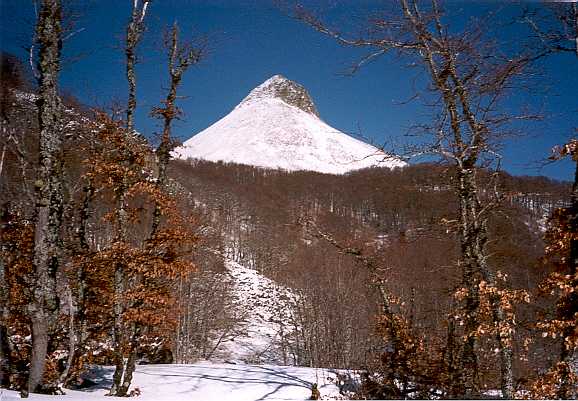 Nous contournons le Puy Griou, trop risqué à grimper en raquettes, ici vu d'Est et Ouest.
We circumvent the Puy Griou, too risky to climb in snowshoes, here seen from East and West.
---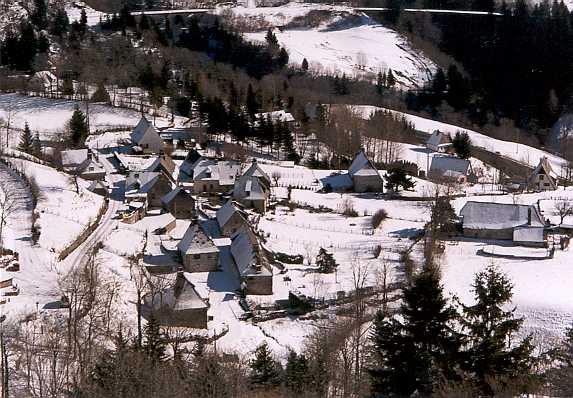 Redescente par le Col du Gliziou. Vue sur le village des Chazes, et la Gare du Lioran.
Going back down by the Col of Gliziou. View to the village of Les Chazes, and the Lioran Station.
---



L'eau sculpte décidément de bien étranges formes dans les ruisseaux...
Water sculpts definitely strange shapes in water strams...
---
Autres Ascensions - Other Mountaineerings
Contact