Hautes Terres du..- Highlands of..
Cézallier
08/04/01
Cliquez pour élargir ; Click to enlarge

---
Quel autre nom conviendrait mieux à cette région, qui si elle n'est pas la plus méconnue la et moins densément peuplée de France, fait certainement partie de celles ci ? Il naît là où les tentacules puissants du Cantal et du Sancy viennent mourrir, non pas pour former un troisième massif distinct, mais pour étaler son relief insolite et déconcertant, fait tantôt d'ondulations tantôt de vastes étendues, à perte de vue. Le Cézallier, une montagne ? Non, car mis à part un Mont Chamaroux et un Signal du Luguet bien peu insolents comparé aux Puys lointains, il ne possède pas de réel sommet. Oui, car c'est avec peine que s'agrippent les Pins Sylvestre dans la tourbe détrempée pour résister aux vents, et les clôtures comme les murets de pierre divisant les champs paraissent bien dérisoires dans cette immensité inhospitalière, qui flirte avec les 1500 m d'altitude.
Quelle région plus anti-touristique pourrait on également trouver ? Il n'y a absolument rien. Si ce n'est pour celui qui daignerait s'y aventurer, ne serait-ce qu'en voiture (comme moi ce jour là !). Par jour de temps incertain, les jeux de lumière y sont éphémères et saisissants.

Which other name could suit better to this region, which would belong to those, if it wasn't the less crowded and known region of France ? It borns where the strong tentacles of Cantal and Sancy are dying, not to form a third distinct massif, but to spread its insolite and disconcerting relief, made once of swells, once of vast flats, as far as eye can see. The Cézallier, a mountain ? No, because apart from a Mont Chamaroux and a Signal du Luguet not so insolent compared to the distant Puys, it doesn't have any real summit. Yes, because Sylvester Pines hardly root in wet peat to resist winds, and fences as well as stone walls seem so derisory in this inhospitable immensity, flirting with the 1500m of height.
Which region more anti-touristic could we also find ? There is absolutely nothing. If it isn't for the one who would dare having a go, even only by car (like me that day !). At uncertain weather days, lights effects are ephemere and astonishing.
---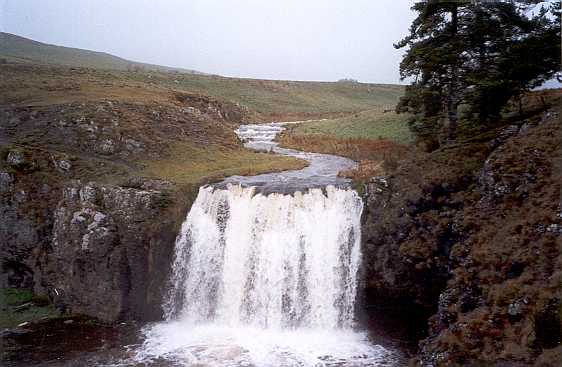 La Cascade de Veyrines, près d'Allanche, à fort débit en ce printemps capricieux.
The Veyrines Waterfall, near Allanche, at a high rate during this capricious spring.
---



Le cirque d'Artou, près du Signal du Luguet, point culminant (et non sommet !) du Cézallier.
The Artou corrie, near the Signal du Luguet, heighest point (and not summit !) of the Cézallier.
---
La route joue aux montagnes russes et passe tantôt à la neige tantôt à la verdure. Veronika prend une photo.
The road plays roller coasters and goes once into snow once into green. Veronika takes a picture.
---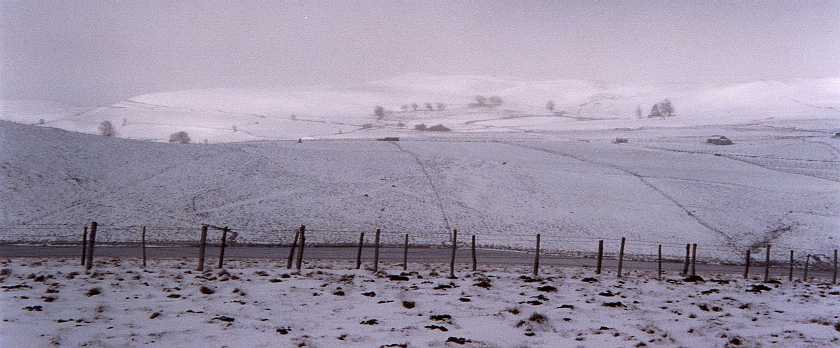 Le petit lac de retenue de La Terrisse, sous la neige.
The small lake of La Terrisse, under the snow.
---

Panorama vers ce même lac.
Panorama to the same lake.
---



Paysage du Cézallier vers Pradiers.
Landscape of the Cézallier near Pradiers.
---



De bas nuages floconneux frôlent les cîmes des arbres.
Low snowy clouds brush the top of the trees.
---



La solitude qui règne n'est pas sans me rappeller celle des Highlands d'Ecosse.
The solitude that reigns is remembering me the one of the Scottish Highlands.
---



Un morceau de ciel bleu... pour combien de temps ?
A piece of blue sky... for how much time ?
---



Spots lumineux à travers le paysage.
Luminous spots through the landscape.
---
---
---
Autres Ascensions - Other Mountaineerings
Contact