Grand Tapou
(et Pic du Milieu de Tapou)
3150 ; 11/05/03

Cliquez pour élargir ; Click to enlarge



Les deux pics de Tapou (le pic du milieu est en réalité négligeable) sont de magnifiques belvédaires sur les contreforts du massif du Vignemale. Cette course a l'avantage de offrir un très haut sommet de manière relativement aisée par conditions de neige, et c'est une classique pour les skieurs. Notre expédition, bien qu'à pieds, nous a fait passer d'inoubliables moments grâce à un bivouac à 2200m.

The two peaks of Tapou (the pic of the middle is actually neglectible) are wonderful viewpoints on the hillside of the Vignemale massif. This trip has the advantage to offer a very high summit in a quite easy way, by snowy condition, and it is a classic one for the skiers. Our expedition, despite by foot, provided us some unforgettable moments, partly with a bivouac at the height of 2200m.


---

Pas de bol ! Quatre coulées de neige barrent la route d'Oussoue à hauteur de la forêt de St Savin, vers 1500m. Marche préliminaire de 5 km avant de quitter la piste à hauteur de la cabane de Milhas. Que de marmottes ! Dans notre dos, le Piménée enneigé.
No luck ! Four avalanches lock the road of Oussoue at the level of the St Savin forest, near 1500m. Preliminary walk during 5 km before leaving the track at the height of the Milhas hut. So many marmots ! In our back, the snowy Piménée.
---

Après 700m de montée depuis le départ, début des premiers névés sous le Pic Pointu, peu avant les lacs. Nous décidons de planter là les tentes.
After climbing 700m from the start, the first snow remains appear under the Pic Pointu, near the lakes. We decide to set the tents there.
---

Bivouac sans histoire. Au coucher de soleil puis à l'aube, le massif de Gavarnie s'illumine.
Perfect bivouac. In the sunset then in dawn, the massif of Gavarnie lighten.
---

Départ très matinal, sous les premiers rayons colorés. Nous passons sous le Pic Pointu et près des lacs, invisibles sous la neige.
Early start, under the first coloured rays of light. We walk past the Pic Pointu and near the lakes, unvisible under the snow.
---

Nous remontons la longue combe enneigée. Le fond de la vallée se fait de plus en plus lointain !
We keep climbing the snowy corrie. The end of the valley seems further and further !
---

Les massifs de l'Ardiden et du Néouvielle, avec ici le Turon vu de dos.
The massifs of Ardiden and Néouvielle, here with the Turon seen from behind.
---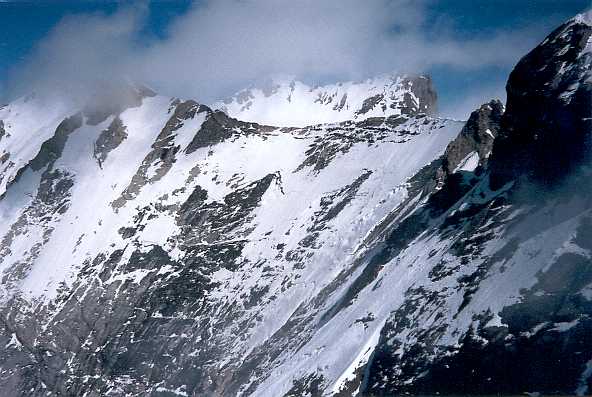 Brume au sommet, mais entre deux accalmies vues sur le Monferrat et la Pique Longue du Vignemale . Waoo, ça déménage !
Fog on the summit, but between two quiet periods, wiews to the Monferrat and the Pique Longue of the Vignemale. Waoo, it rocks !
---

Congratulations au sommet, puis retour à la voiture, qui semble nous attendre au bout du monde !
Congratulations on the summit, then returning to the car, which seems to wait at the end of the world !
---
Autres Ascensions - Other Mountaineerings
Pyrénées...
Liens - Links
Contact