Punta Alta de Comalesbienes, 3014 m
17/09/00



Voulant mettre au maximum à profit la durée de mon séjour près de Vielha, pousser le plus loin au Sud vers les lacs de Travessani, et ayant une faim de randonnée insatiable ces temps là, j'en voulais une grosse, très grosse... Je passai pour fou la veille, mais rien à faire, le Montardo était trop petit.

Wanting to make the most profit of my stay near Vielha, to wander the furthest possible South to the Travessani lakes, and having an unsatisfiable hunger of walking those times, I wanted a big, a very big one... I was assumed as fool the evening before, but nothing to do, the Montardo was definitely too small.
---
Cliquez pour élargir la carte.
Click to enlarge the map.
---

Je garai ma voirure à Pont de Rius dans l'obscurité la plus totale, et je me mis à marcher dans une nuit grésillante de cigales. Le ciel s'éclaircit bientôt, et les cîmes commencèrent à se colorer au lac Cap deth Port au dessus de Restanca. J'arrivai pile à l'heure pour le premier rayon, exactement au Col d'Oelhacrestada, synonyme de limite officielle du Parc National des Encantats et dernière étape pour les candidats au Montardo, montagne locale célèbre.

I parked my car at Pont de Rius in the complete darkness, and I started walking in a noisy ciccada sizzling night. Sky brightened soon after and tops started to get coloured at the Cap deth Port lake, upside Restanca. I arrived exactly o'clock for the first ray of light exactly at the col of Oelhacrestada, synonym of official border of the Encantats National Park and last stage for the candidates to the Montardo, local popular mountain.

---

Toute la magie des Encantats se dévoila à mes yeux en avançant encore de quelques mètres. Pas une ride ne venait troubler la surface de l'Estany des Monges, dans lequel se reflétait l'inquiérante silhouette de la Punta Alta (gauche), et des Besiberri (droite). Y irais je ? Ce n'était pas encore fait !
All the magic of the Encantats appeared to my eyes by walking few more meters. Not even the slightest swell was troubling the surface of the Estany des Monges, in which was reflecting the worrying shape of Punta Alta (left), and the Besiberri (right). Will I go ? This wasn't done !

---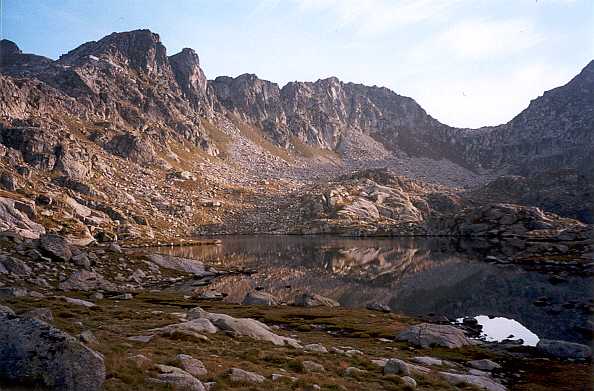 La Punta Alta, un peu plus grosse dans l'Estany de Travessani, et l'Estany des Margades, oasis au milieu d'un océan minéral figé. C'est par cette crique et le Port de Caldès que l'on accède au célèbre Cirque de Colomers.
The Punta Alta, a bit bigger in the Estany de Travessani, and the Estany des Margades, oasis in the middle of a frozen mineral ocean. This is by this corrie and the Port de Caldès, that we can access the famous Cirque de Colomers.

---

Le Pic de Travessani reflété dans quelque laquette sans nom. Estany Cot. On s'approche en redescendant, de la vallée de Cavallers et de la base de la Punta Alta.
The Pic de Travessani reflected into some unnamed small lake. Estany Cot. We get closer while going down, to the the Cavallers valley and to the base of Punta Alta.

---

C'est le massif de Colamoforno-Besiberri, autre sommet partageant la position du 3000 le plus méridional des Pyrénées, qui se reflète dans l'Estany Cot.
It is the massif of Colamoforno-Besiberri, other summit sharing the position of the most southern Pyrenean 3000, that reflects into the Estany Cot.

---

Fin de la descente aux abords de l'Estany Negre, superbe lac profond niché entre Punta Alta et Travessani. Tandis que la fontaine du refuge me permet de remplir mes bouteilles, je réalise en regardant l'heure (10h) que le sommet est encore jouable. C'est ce chemin étroit, parsemé par des étangs de Colieto, que l'on suit pour contourner la façade de Comalespada et grimper la Punta Alta plus facilement.
End of the way down once at the Estany Negre, superb deep lake hidden between Punta Alta and Travessani. While filling my bottles at the refuge's fountain, I realize by looking the clock (10h) that the top is still attemptable. This is this narrow way, scattered by the wee lakes of Colieto, that we follow to circumvent the wall of Comalespada and climb easier the Punta Alta.

---

Baranca de Colieto, où les vaches viennent paître sur le rivage herbeux. L'endroit le plus secret, qui incarne mieux le caractère féérique des Encantats.
Baranca de Colieto, where cows are hanging around on its grassy shores. The most secret place, that personifies the most the fairy like character of the Encantats.

---

Estany de la Roca, lac facilement identifiable par son "ile", annonce les choses sérieuses au premier tiers de la montée de la Punta Alta. Le sentier convivial cède la place là au grand chaos granitique.
Estany de la Roca, lake easily identifiable by its "island", announces the serious things at the first third of the ascent of Punta Alta. The welcoming path gives way there to the big granitic chaos.

---

La pente est tellement raide que le dénivellé passe en fait vite. Un dernier effort pour se hisser au sommet. Un regard de l'autre côté, où les Estanys de Comalesbienes nous font un clin d'oeil en dessous du vide. Je me retourne une dernière fois du côté d'où je viens, et où les pics de Comalespada ne bouchent plus la vue. Le Montardo et le Travessani surplombent les Estanys des Monges et des Margades là bas au loin. J'avale un sandwhiche et je vide une bouteille. Il est midi 5, et déjà l'heure de redescendre.

The slope is so steep that we get very fast in altitude. A last effort to scramble on the top. Having a look to the other side, where the Estanys de Comalesbienes are greeting you underneath emptiness. I turn back my head a last time to where I come from, and where the Peaks of Comalespada are not locking the sight anymore. The Montardo and the Travessani are overlooking the Estanys des Monges and Margades far away. I swallow a sandwhiche and I empty a bottle. It is 5 past noon, and already time to get off.

---
Autres Ascensions - Other Mountaineerings
Pyrénées...
Contact

Retour à... - Back to...