Tuc de Sarrahèra, 2632 m
Tuc de Conaglos, 2748 m
16/09/00
Cliquez pour élargir ; Click to enlarge

---
Poursuivant ma découverte des Pyrénées toujours un peu plus loin à l'Est, un secteur me faisait rêver depuis longtemps. En continuant après le Val d'Aran, avais-je lu, on arrive dans une des régions des Pyrénées qui demeurèrent le plus lontemps secrètes et mystérieuses. Loin de la verte Ariège, le versant Espagnol offre une étendue chaotique de pics et de lacs infinis, qui rend moins évidente la ligne de crête de la chaine Pyrénéenne qu'à l'Ouest. Ce pays est parait-il enchanté...

Continuing my discovering of the Pyrénées still further East, an area was making me dreaming since a long time. By keeping going after the Aran Valley, had I read, we arrive in one of the regions of Pyrénées that remained the longest unexplored and mysterious. Far from the green Ariège, the Spannish side offers a chaotic area made of infinite peaks and lakes, giving the Pyrenean mountain ridge less evident to follow than in its West. This country, have I heard, is fairy like...
---

Je choisis d'effectuer cette randonnée au départ de la sortie du tunnel à l'Espitau de Vielha, afin de garder celui par Pont de Rius pour le lendemain, et pour visiter le site du lac de Redon. Vues sur le Tuc de Molières, antécîme du géant Aneto, au fond sur la photo de gauche.
I chosed to undertake this walk by starting from the exit of the tunnel, at Espitau de Vielha, in order to keep the access by Pont de Rius for tomorow, and to visit the site of Lake Redon. Views to the Tuc de Molières, secondary top of the giant Aneto, in the back on the left picture.

---

Vue Ouest vers le Lac Redon surplombé par le Tuc du Port de Vielha, et lui même par le roi des Pyrénées, l'Aneto. Vue Est vers ce que les Aranais voire les Catalans appellent le plus beau lac des Pyrénées, le lac Tort de Rius. Avec sa faible profondeur variant sur toutes les nuances de bleu, ses multiples îles, son contour bien dessiné, et surtout son cadre, protégé de toutes parts par les aiguilles acérées du Tossal de Mar et de Besiberri, c'est effectivement le plus beau lac que je n'ai jamais vu, avec le Loch Sionascaig du Torridon Ecossais qui lui ressemble d'ailleurs un peu.

Wesstern view to the Lake Redon overlooked by the Tuc du Port de Vielha, and itself by Pyrénées's king, the Aneto Peak. Eastern view to what the Aran people, and even the Catalunya people, are calling Pyrénées most beautiful lake, the Lake Tort de Rius. With a shallow deepness varying to all the tones of blue, its numerous isles, its accurate shape, and above all its background, protected by the jagged pinnacles of Tossal de Mar and Besiberri, it is effectively the most beautiful lake I have ever seen, with Loch Sionascaig in Scotland's Torridon, which looks a bit like him.

---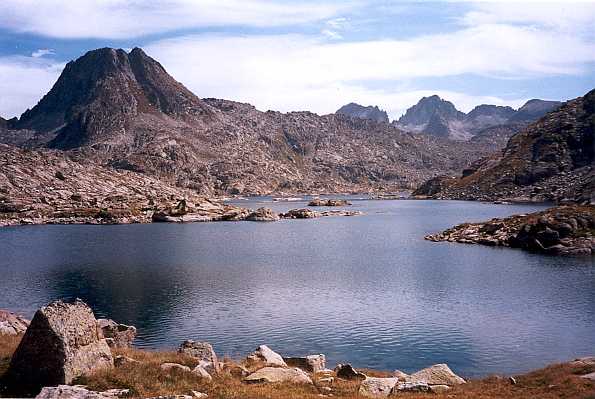 Je redescend du Tuc de Sarrahèra pour admirer de plus près le lac Tort de Rius et profiter de ses rives accueillantes. On n'a plus qu'une envie, c'est de s'asseoir contre un rocher chauffé par le soleil et de contempler ce spectacle incroyable...
I get off the Tuc de Sarrahèra to admire from closer the lake Tort de Rius and enjoy its welcoming shore. Right now we have only have one desire, it is to sit down on a rock warm by the sun and to contemplate this amazing spectacle...

---

A présent je monte sur le Tuc de Conanglos, petit Tuc voisin à peine plus grand que l'autre (la barre rocheuse de gauche), mais permettant une vue panoramique encore meilleure sur le lac Tort de Rius (droite) et son voisin un peu plus brouillon, de Rius tout court (gauche). Cliquez pour élargir.
Now I climb the Tuc de Conanglos, small neighbouring Tuc slightly taller than the other (the rocky ridge on the left), but allowing a better panoramic view to the lake Tort de Rius (right) and its drafter neighbour Rius only (left). Click to enlarge.

---

Sur le chemin du retour, le long du lac de Rius, l'autre lac. Celui semble avoir plus souffert des chaleurs estivales. Passage par Port de Rius et retour dans la vallée.
On the way back, along the lake of rius, the other lake. This one seems to have suffered more from the summer warm. Going though Port de Rius col and back in the valley.

---
Autres Ascensions - Other Mountaineerings
Pyrénées...
Contact