Tuc de Molières 3009 m
28/04/02

Cliquez pour élargir ; Click to enlarge

Tout comme pour le Béarn, une grande partie inconnue pour moi sépare encore les Pyrénées centrales du Val d'Aran, d'où j'ai déjà découvert les Encantats il y a quelque temps. Pas étonnant, étant donné que cette séparation n'est autre que l'autrère massif de la Maladeta et la lointaine vallée de Venasque. Le Tuc de Molières, à cheval entre Aragon et Catalogne, est le premier 3000 oriental du massif, facile de surcroit, d'où j'ai fêté mes 25 ans au sommet.

Just like for the Béarn, a wide part still unknown for me separates the central Pyrénées from the Val d'Aran, where I discovered the Encantats not so long ago. Not so surprising, since this separation is nothing else than the austere Maladeta massif and the far to reach Venasque valley. Tuc de Molières, standing exactly between Aragon and Catalunya, is the first oriental 3000 of the massif, easy as well, on the top of which we celebrated my 25th birthday.
---

La vallée de Molières, au départ près de la sortie du tunnel de Vielha, et à un petit lac.
The Molières valley, near the start at the Vielha's tunnel exit, and at a little lake.
---

Une cascade, près du sentier, et vue de la vallée près de notre lieu de bivouac. La montagne que l'on voit au loin est le Tuc de Conanglos, gravi il y a 1 an et demi.
A waterfall, near the path, and view to the valley near our bivouac place. The mountain that we see far away is the Tuc de Conanglos, climbed 1 year ago and half.
---

L'apéro, le soir près du camp.
Apéritif in the evening, at the camp place.
---

Le cirque, au lever de soleil, et le Tuc de Tallada voisin.
The cirque, at sunrise, and the nearby Tuc de Tallada.
---

L'équipe, une fois crampons chaussés et piolets sortis, avant et après la hauteur du refuge. Le vent souffle très fort. A droite, la cime n'est plus très loin.
The team, crampons on and iceaxis in hand, before and after the height of the refuge. Wind is blowing strongly. On the right side, the top isn't too far now.
---

Nouvelle vue sur le Tuc de Tallada, pic voisin acéré comme des dents de squale, et notre arrivée sur le Molières.
New view to the Tuc de Tallada, sharp as squale's teeth, and our arrival at the Molières top.
---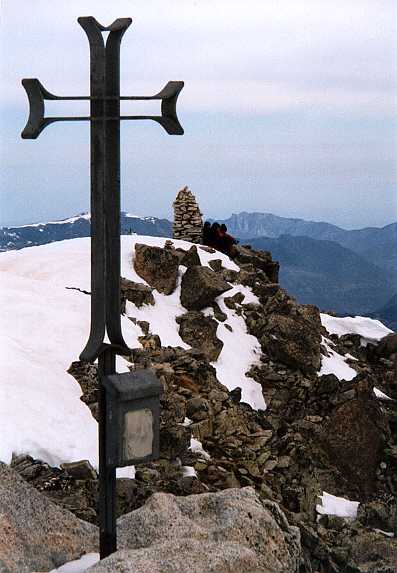 Abrités derrière le cairn sommital (dressé par Russel), et moi servant le Champagne pour mes 25 ans !
Sheltered behind the summit's cairn (made by Russel), and me serving Champange for my 25th birthday !
---

Moi sur fond de Pic d'Aneto (le toit des Pyrénées), et vue sur toute la vallée que nous avons remontée. Au loin, parmi les pics noirs de droite, doivent figurer Besiberri et Punta Alta.
Me on a background of Pic d'Aneto (Pyrénées's roof), and view to the whole valley that we climbed. Far ahead, inside the black tops on the right, must be Besiberri and Punta Alta.
---
Autres Ascensions - Other Mountaineerings
Pyrénées...
Liens - Links
Contact