The Five Sisters Of Kintail
Sgurr na Ciste Duibhe 1027 m ; Sgurr na Carmach 1002 m
Sgurr Fhuaran 1068 m ; Sgurr na Saighead 929 m ; Sgurr na Moraich 876 m
15/07/00
Cliquez pour élargir ; Click to enlarge

---
Une journée au climat un peu plus fiable nous permit d'effectuer la très célèbre traverse des Cinq Soeurs du Kintail, qui n'est ni une montagne à 5 cinq sommets, ni 5 monts jumeaux, mais un compromis, qui vu du bas de Glen Shiel, laisse apparaitre une similitude quasi parfaite de leur alignement. Les Cinq soeurs sont aussi le synonyme d'une randonnée grandiose en montagnes russes le long de cette crête, assez escarpée par endroits, et très spectaculaire. 1750m de dénivelée au total. Celle ci, la principale raison de notre escale dans le Kintail avant Skye, nous l'avions réservée pour la meilleure journée...

A day whose weather was more reliable allowed us to undertake the very famous traverse of the Five Sisters of Kintail, which is not a mountain with 5 summits neither 5 twins peaks, but a compromise, which seen from Glen Shiel bottom, let appear a quasi perfect similarity in their outline. The Five Sisters are also synonym of a gorgeous day trip in ridge walk all along the crest, quite steep sometimes, and very impressive. 1750m of ascent in total. This one, actually the main reason of our stay in Kintail before Skye, was kept for the best day...
---

Les "Cinq Soeurs", dont la traversée se fera de droite à gauche.
The "Five Sisters", whose traverse we will do from right to left.
---

En atteignant la crête au col de Bealach an Lapain (col du Lapin ?), la montée démarre avec Sgurr nan Spainteach, antécîme de la première soeur. Ce nom désigne en fait le "Pic des Hispaniques", montagne où une armée de trans-Pyrénéens venue à nouveau (voir Spannish Point en Irlande) envahir en 1719 le royaume de Sa Majesté, cette fois ci par surprise via le Nord, se volatilisa sur ses flancs alors qu'elle était battue en retraite...

While reaching the crest at the col of Bealach an Lapain, the ridge walk starts with Sgurr nan Spainteach, secondary summit of the first sister. This name actually means "Peak of the Spaniards", mountain where an army of trans-Pyreneans attempting again (see Spannish Point in Ireland) to invade the Queen's Kingdom, this time by surprise via the North, disappeared on its slopes while they were running away defeated...
---

Vue vers l'Est depuis le superbe belvédère de Sgurr na Ciste Duibhe, la première soeur. Tandis qu'à gauche la vallée débouche au loin sur le célèbre Glen Affric, à droite nous appercevons le Loch Cluanie. Cliquez pour élargir.
Looking East from the fine viewpoint that is Sgurr na Ciste Duibhe, the first sister. While on the left the valley is leading far away to the famous Glen Affric, on the right we notice Loch Cluanie. Click to enlarge.

---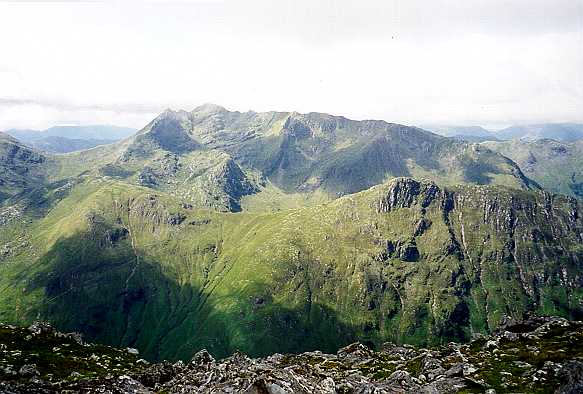 The Saddle présente ses flancs acérés sous un angle différent chaque fois qu'un nuage s'en va.
The Saddle presents its sharp edges at a different angle every time a cloud is going away.
---

Le soleil se montre enfin, et sur la seconde soeur, Sgurr na Carmach, le Loch Duich apparait.
Sun is finally shinning, and on the second sister, Sgurr na Carmach, Loch Duich appears.
---

Sgurr Fhuaran, troisième soeur, et dernier des trois uniques Munros de la chaine. Quelques vaines tentatives pour photographier les montagnes acérés du Torridon, plus au Nord. Il doit être aussi possible de discerner le massif de Ben Dearg quelque part encore plus loin, mais autant chercher une aiguille dans une botte de foin.

Sgurr Fhuaran, third sister, and last Munro of the three ones of the chain. A few vain attempts to picture the jagged Torridon mountains, further North. It should be also possible to recognise the massif of Ben Dearg somewhere even further, but this would be as easy as finding a needle in a bundle of hay.
---

Loch Duich vu de la quatrième et de la cinquième soeur. Les connaisseurs, s'il y en a ici, verront par la photo que j'ai un peu "grugé" en escamotant la dernière...
Loch Duich seen from the fourth and the fifth sister. The connoisseurs, if there are here, will see through the picture that I cheated by shortening the last one...
---

En redescendant sur le Loch Duich, l'arrivée. Car nous avions pris le bus pour aller jusqu'au point de départ, quelques kilomètres en amont dans le Glen Shiel.
While going down on Loch Duich, the end Because we took the bus to get to the start, a few kilometers deeper inside the Glen Shiel.
---



Le rivage du Loch Duich, qui est en fait un Sea-Loch (bras de mer).
Loch Duich shores, which is actually a Sea-Loch.
---
Autres Ascensions - Other Mountaineerings
Contact