Ineu
2279 m ; 10/08/2006

Cliquez pour élargir ; Click to enlarge



Ineu est l'autre grand sommet des Rodnei, en son extrémité opposée. Son autre attrait est qu'il est situé dans la deuxième "biosphère" du parc, une jolie région lacustre.
"Ineu, ce n'est pas la plus grande montagne, mais c'est quand même la plus massive, la plus belle, la plus impressionnante de tout le massif. Elle a même deux lacs d'altitude, privilège réservé à aucun autre sommet. C'est comme si Ineu avait deux cœurs. Ineu est la plus majestueuse des montagnes. Ineu est la plus grande. Ineu cumule tous les superlatifs. Ineu, en vieux Roumain, ça veut dire "je suis le plus fort". (Yves, ornithologue francophone rencontré à la cabane de Pasul Rotunda)
Puisse être cette randonnée à la hauteur de l'étymologie ce ce joli sommet !

Ineu is the other big summit of the Rodnei, in the other end of the range. Its other interest is that it is located into the second "biosphere" of the parc, in a fine area with mountain lakes.
"Ineu, it's not the highest mountain, but it's still the most massive, the most beautiful, the most impressive of the range. It even has two mountain lakes, privilege reserved to no other mountain. It's like if Ineau had two hearts. Ineu is the most majestuous of the mountains. Ineu is the tallest. Ineu cumulates all the superlatives. Ineu, in old Romanian, it means "I am the strongest". (Yvan, french speaking ornithologist met in the hut of Pasul Rotunda)
Let's hope this hike will be as cool as the etymology of this beautiful summit !


---

Montée au col Pasul Rutunda par la piste forestière, et vue sur la Valea Lala. Il pleut encore en cette fin d'après-midi.
Driving up to the pass Pasul Rutunda by the forest road, and view to the Valea Lala. It's still raining in this end of afternoon.
---

Au refuge "Cabana Alpina" de Pasul Rutunda.
At the mountain hut "Cabana Alpina" of Pasul Rotunda.
---

Activité pastorale importante dans ce secteur.
Important pastoral activity in this area.
---

Décor au milieu duquel des chevaux en liberté errent... le dépaysement est total.
Scenery in the middle of which some free horses are wandering. the feeling of being in the end of the world is complete.
---
Panorama de Pasul Rotunda.
Panorama of Pasul Rotunda.
---
Panorama de Pasul Rotunda.
Panorama of Pasul Rotunda.
---

Enclos à bétail. Les ours viennent parfois fouiner la nuit.
Enclosure for cattle. Bear sometimes come at night sneaking around.
---

Départ le lendemain. Il y a du brouillard, c'est le moins que l'on puisse dire ! Mais des percées récurrentes de ciel bleu juste au dessus de nous alimentent nos espoirs tout le long de la montée.
Starting the day after. There is fog, we can say it ! But regular gaps of blue sky, not so high over our heads, feed our hopes all along the way up.
---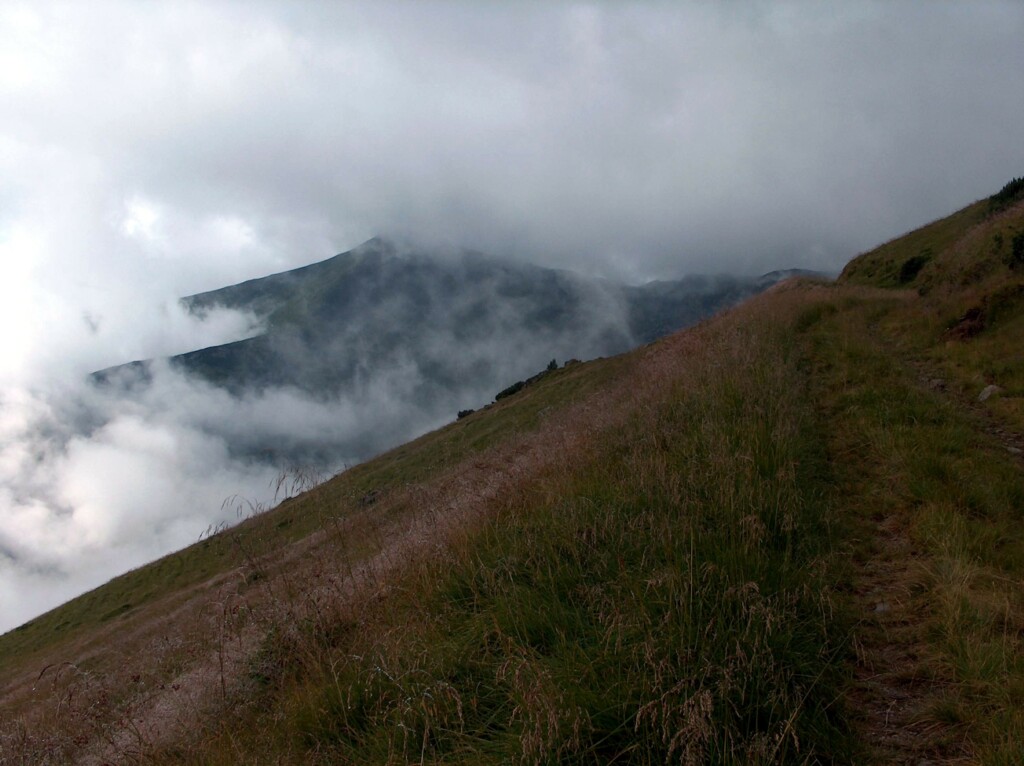 L'ancien balisage des monts Rodnei (depuis, le balisage a heureusement été refait, avec des balises de peinture sur des pierres au sol).
The old marking of the Rodnei mountains (since then, the marks have fortunately being remade with paint on stones on the ground).
---
Au col Şaua Cu Lac, qui bascule à l'intérieur de la Valea Lala (quel nom musical !), nous découvrons furieux, qu'à quelques mètres à droite de nous sous la crête, le soleil règne en maitre.
At the pass of Şaua Cu Lac, which goes inside the Valea Lala (what a musical name !), we discover, furious, that few meters on the right below the ridge, the sun is shining.
---
Le sentier effectue une brève mais raide descente pour basculer dans le replat du haut de cette vallée.
The path makes a sudden and steep breakdown to switch into the flat bottom of this high valley.
---

Le décor change du tout au tout. Nous passons des pâturages herbeux sans fin à un paysage alpin fait de graillères de granite, au milieu desquelles poussent des pins nains. Paysage très similaire à celui des Tatras, ou plus précisément les Tatras de l'Ouest, similaires en ordre de grandeur. Seule différence notable: nous observons ici des rhododendrons de montagne, chose que je n'ai jamas vu ailleurs dans les Carpates, mais qui règne en cette saison dans les Pyrénées. Signe que les Carpates de Roumanie sont déjà un peu plus méridionales...
The sight changes completely. We leave grassy endless pastures to enter an alpine landscape made of granitic screes, in the middle of which grow a dense bush of dwarf pines. Landscape very similar as in the Tatras, or more precisely the Western Tatras, more similar in size. Only one notable difference: here we can watch some mountain rhododendrons, which I have never seen anywhere else in the Carpathians, but which reign everywhere at this season in the Pyrénées. A sign that the Romanian Carpathians are already here a but more "southern"...
---
Nous arrivons au premier lac, le lac Lala Mare. Très beau lac alpin, que nous trouvons beaucoup plus beau que le lac Iezer sous Pietrosul deux jours auparavant.
We arrive to the first lake, the lake Lala Mare. Very beautiful mountain lake, which we find more beautiful than the Iezer lake under Pietrosul two days ago.
---

Les rives de ce lac font office d'aire de campement officielle pour les randoneurs qui effectuent l'intégralité de la traversée des Rodnei. Fort heureusement tous les campeurs semblent faire preuve de civilité et aucun déchet ne traine.
The shores of this lake serve as an official bivouac area for the hikers who undertake the full traverse of the Rodnei range. Fortunately all these campers seem to behave fair and no trash is left around the lake.
---
Le second lac, le lac Lala Mica (qui par opposition au premier, "grand lac Lala", ne somme "petit lac Lala"), juste un peu plus haut. Rives de gazon style golf Anglais, encore plus pures que le premier lac.
The second lake, the lake Lala Mica (by opposition to the first, "bag lake Lala", means "small lake Lala"), just a bit further higher. Grassy shores in the english golf style, even purest than the one before.
---

Ici aussi l'activité pastorale est importante, une colonne de moutons guidée par un berger nous précède. Vue qui me rappelle énormément les Pyrénées...
There also the pastoral activity is very important, a column of sheep is preceding us. A sight which reminds me very much the Pyrenees...
---

Au sommet d'Ineu, après un déluge de pluie et de vent, la voie se dégage tout à coup pour faire place le ciel bleu... Comme si la grande croix en bois qui trône au sommet y était pour quelque chose !
At the summit of Ineu, after struggling with a chaos of rain and wind, the way suddenly clears and gives place to blue sky... Just like if the big cross of wood that stands on the top was for something !
---

Nous savourons à sa juste valeur ce moment, apogée de notre voyage.
We celebrate as it should be this very moment, the highlight of our trip.
---
Le panorama qu'Ineu nous permet de savourer quelques dizaines de minutes est dramatique. Au dessus d'une mer de nuages, des pics herbeux détrempés semblement braver les intempéries.
The panorama that Ineu allows us to watch for few dizains of minutes is dramatic. Over a sea of clouds, grassy wet peaks seem struggle with the wet weather.
---
Vue vers l'Est. Ineu est le second sommet des Rodnei après Pietrosul, avec juste quelques 20m de moins. Pourtant, de par son éloignement, son long accès, et son allure, psychologiquement, c'est incontestablement la plus "grande".
Looking to the East. Ineu is the second tallest summit in the Rodnei after Pietrosul, but just some 20m less. Indeed, by its remoteness, its long access, and the way it looks, psychologically it is undoubtly the "biggest".
---
Redescente, dans le brouillard.
Redescente, dans le brouillard.
---
Redescente, dans le brouillard.
Redescente, dans le brouillard.
---
Ca ne s'arrange pas...
It doesn't get better...
---
Le retour prend des allures de course contre la montre car la faible visibilité est traitre dans ces grandes étendues herbeuses...
The way down looks more and more like a race, as the poor visibility is tricky in these wide grassy meadows...
---

Nous croisons des chevaux, à nouveau.
We meet some horses, again.
---
Arrivée à Pasul Rotunda, juste avant la pluie.
Arrivign to Pasul Rotunda, just before the rain.
---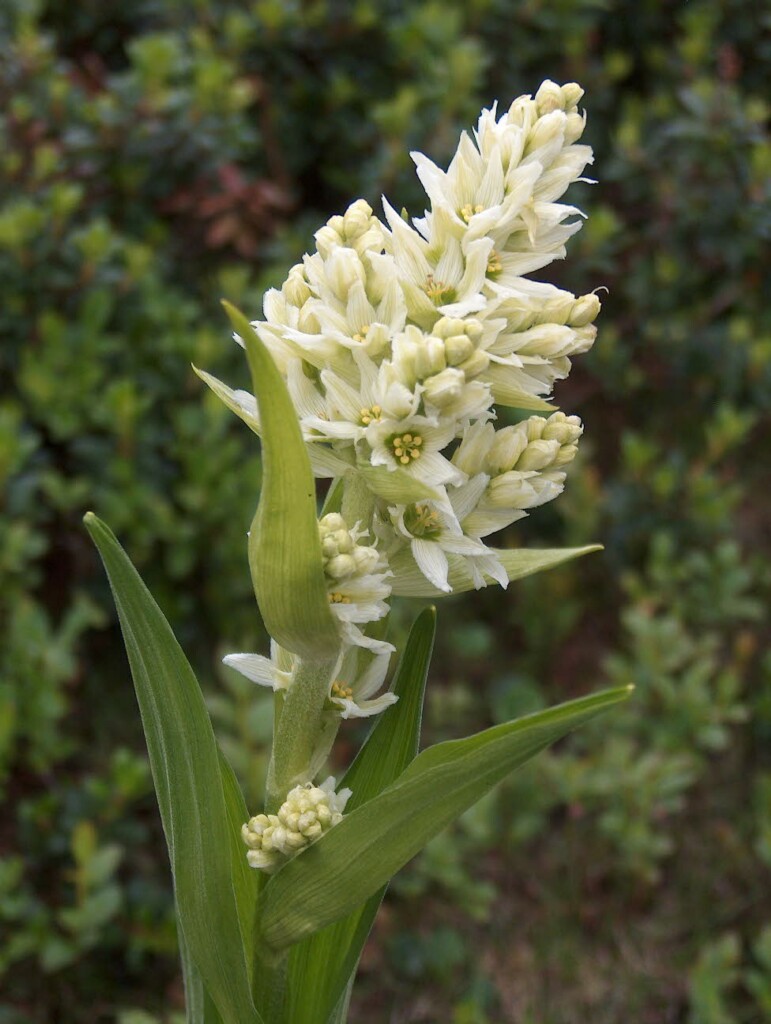 Chardon et gentianes.
Thistle and gentians.
---

Nos amis les petits chiens de berger (ceux là sont gentils, il y en a 3 autres qui ont failli nous bouffer).
Our friends the little dogs (those ones are fine, but there are 3 other ones who nearly ate us).
---
Autres Ascensions - Other Mountaineerings
Contact