Pic d'Arriel (et petit Pic d'Arriel)
2824 ; 14/05/03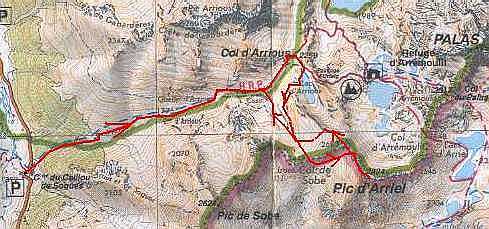 Cliquez pour élargir ; Click to enlarge



Après une journée de repos, changement total de région pour la 3e et dernière randonnée de ce court séjour, malheureusement après le départ de notre hôte Sibérien, mais en compagnie de Yannick venu d'Orthez, qui veut nous faire découvrir le Pic d'Arriel, son favori du coin. Chance providentielle: alors que nous envisagions camper illégalement aux alentours du Pourtalet, qui plus est zone assez fréquentée, nous faisons connaissance avec la cabane du Caillou de Soques, étonamment propre et prédisposée aux randonneurs, bien qu'en bordure de route.

After a day rest, total change about the region, for the 3rd and last hike of this short stay, unfortunately after the departure of our Siberian host, but with the company of Yannick who came from Orthez to show us the Pic of Arriel, the best of the area according to him. Providential luck: as we were planning to camp illegally near the Pourtalet, what's more a quite busy place, we get acquainted with the hut of the Caillou de Soques, surprisingly clean and ready to welcome walkers, despite it is located next to the road.

---

Lever de soleil, peu après le départ de la cabanne. Le Seigneur de la vallée, qu'il est inutile de nommer, se dresse de toute sa hauteur.
Sunrise, soon after our start from the hut. The Lord of the valley, that there is no need to name, stands on all its height.
---

Après les vaches et les moutons, voici le poney. La vallée d'Ossau est décidément très pastorale.
After the cows and the sheep, here is the pony. The valley of Ossau is definitely a pastoral one.
---



Le lac d'Arrious, au bord duquel nous effectuons une halte.
The Arrious lake, near which we make a stop.
---

Montée au Col de Sobe, puis entre les deux Pics d'Arriel.
Climbing to the Col of Sobe, then between the two peaks of Arriel.
---

Vue plongeante très spectaculaire vers les lacs d'Arrémoulit, depuis un piton rocheux en surplomb. Arête du Pic d'Arriel, que Yannick et moi grimpons.
Very spectacular diving view to the lakes of Arrémoulit, from a sharp rocky viewpoint. Arête of the Peak d'Arriel, that Yannick and me climb.
---

Le Pic de Palas, et le Pic de Balaïtous, le 3000 le plus occidental des Pyrénées. D'ici, sa silhouette est le symétrique parfait de celle entrevue un an plus tôt depuis le Col de Cambalès
The Peak of Palas, and the Peak of Balaïtous, the most western 3000 of the Pyrenees. From here, its shape is the perfect symetry of the one seen one year earlier from the Col of Cambalès
---

Du sommet du Pic d'Arriel, un vautour passe furtivement devant le Pic du Midi d'Ossau, comme pour souligner son caractère emblématique. En bas, le lac d'Arrious du matin, noir comme de l'encre, surplombé par le Lurien.
From the top of the Peak of Arriel, a vulture flies quickly in front of the Pic du Midi d'Ossau, just like if underlining its emblematic character. Looking down, the morning's Lake of Arrious, black as ink, overlooked by the Lurien.
---

Yannick et moi, parvenus au sommet de l'Arriel à l'issue d'une courte et ludique escalade. Nous testerons un chemin de retour inabituel: escalade (c'est beaucoup dire) du petit pic d'Arriel, puis désescalade (c'est le mot) côté opposé, avant de rattrapper le Col de Sobe, Béatrice, et de piquer droit vers la vallée hors du lac d'Arrious.
Yannick and me, arrived to the top of the Arriel, after a short and fine scramble. We will test an unusual way back: climb (that's a big word) of the small peak of Arriel, then scramble down (that's the word) the opposite side, before catching back the Col of Sobe, Béatrice, and heading straight to the valley, outside the lake of Arrious.
---
Autres Ascensions - Other Mountaineerings
Pyrénées...
Liens - Links
Contact