An Casteal 995 m , Beinn a Chroin 940 m
15/11/98
Cliquez pour elargir ; Click to enlarge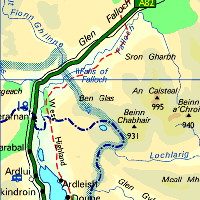 ---
Deuxième Dimanche de marche en montagne, qui réédite la beauté du mémorable Ben Cruachan, avec temps exceptionellement clair et dégagé en plus, et qui permet de superbes vues aux sommets. L'idée que je m'étais faite d'une Ecosse pluvieuse et sombre avant de partir s'avère de plus en plus fausse. Ce pays est finalement si lumineux et varié, particulièrement en cette saison d'automne où les couleurs explosent...
Second mountain walking Sunday, that equals the beauty of the memorable Ben Cruachan, with en exceptional and clear weather too, and that allows superb views from the summits. The idea I had made about a rainy and dark Scotland is getting more and more false. This country is finally so shiny and various, especially at this Autumn season when colours are explosing...
---
Près du point de départ, puis au premier replat. Notre groupe de randonneurs, pour la plupart d'autres étrangers en ce début d'année. On lie des amitiés
Near the starting point, the on the first flat. Our group of mountaineers, most of them other foreign students in this year's beginning. We build friendships.
---

Vue panoramique sur Cruach Ardrain et les monts avoisinants: Cliquez pour élargir !
Panoramic view on Cruach Ardrain and the neighbouring hills: Click to enlarge !
---
Un troupeau de moutons, que je photographie non sans m'attirer toutes les plaisanteries... Une des choses me frappe d'emblée dans ces montagnes d'Ecosse, c'est la netteté de la limite de la neige, qui recouvre par bonnets les formes houleuses des monts.
A group of sheep, that I picture not without making myself the centre of all the teasings... One of the first things that hit my sight the most in these Scottish mountains, is the clearness of the snow limit, covering as hats the swelly shapes of the hills.
---
Les mains profondément enfoncées dans les poches, nous entrons là où le gel rend le sol étincelant et dur comme de la pierre. Christine près du sommet, radieuse, nous invite à danser une petite Ceilidh !
Hands deeply put in the pockets, we enter where freeze makes the ground sparkling and as tough as rock. Christine, near the summit, radiant, invites us to dance a wee Ceilidh !
---
Le froid est cinglant en altitude et le vent violent
Cold is crushing in altitude and wind violent
---
L'herbe est brulée par les premiers froids de l'année
Grass is burn by the first freezings of the year.
---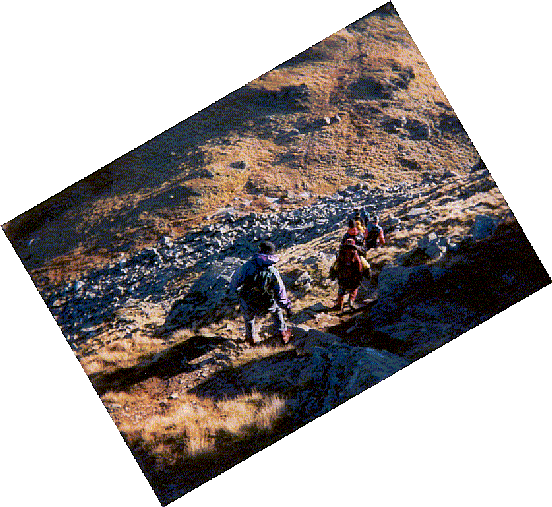 Il est temps de redescendre. Retour par la vallée dans le crépuscule.
It is time to get down. Way back through the glen at dawn.
---
Autres Ascensions - Other Mountaineerings
Liens - Links


Club Montagne de l'univerité de Strathclyde
Strathclyde University Mountaineering Club





Contact