Cliquez pour élargir ; Click to enlarge

Carn Dearg Beag 1010m
Carn Dearg Mor 1220m
Ben Nevis 1344m
10/11/03



Toisième jour de mon expédition, qui s'avèrera être le dernier vu le temps catastrophique du lendemain. Comme la veille, le temps est mitigé le matin, mais il ne s'améliorera pas de beaucoup durant la journée. En ce Lundi calme (le 11/11 n'est pas férié en G.B.), Ben Nevis se prêtait tout naturellement à son ascension qu'il manquait à mes tablettes depuis si longtemps. La manière dont je voulais le faire resta indécise jusqu'au dernier moment. D'abord par la voie normale, mais trop bouché. Exploration du cirque central, puis après tout ascension du seul Carn Dearg Mor. Puis, enfin, sur l'arête et malgré le crachin, pourquoi se priver de la cime du plus grand pic des Iles Britanniques ? Bonne et sympathique conclusion pour ce séjour qui fêta le 5e anniversaire de ma découverte des Montagnes d'Ecosse.

Third day of my expedition, which came out to be the last on considering tomorow's catastrophic weather. As yesterday, weather was wet in the morning, but it got just a little bit better during the day. By this quiet Monday (no bank holiday on the 11/11 in U.K.), Ben Nevis was the obvious aim of today's climb, which was missing to my tables since so long. The way I wanted to climb it remained uncertain until the last moment. First by the normal route, but too foggy. Exploration of the central corrie, then after all the ascent of the only Carn Dearg Mor. Then, finally while on the ridge and despite the misty rain, why giging up the top of British Island's highest peak ? Fine conclusion for this stay that celebrated in a way the 5th anniversary of my discover of Scotland's Mountains.
---

Au debut du sentier très touristique, et une fois la montée terminée, au Lochan Meall an t-Suidhe.
Start of the very touristic path, and once the first half completed, at the Lochan Meall an t-Suidhe.
---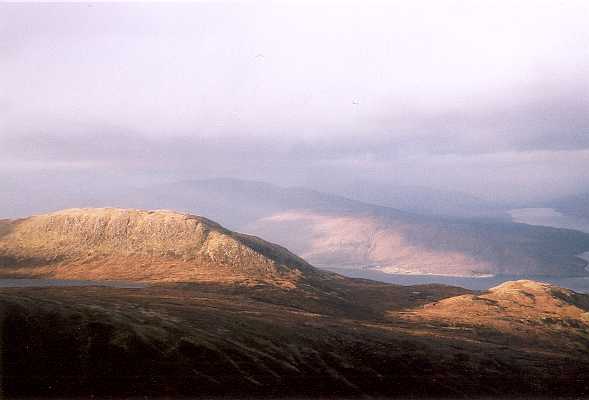 Vue sur Meall an t-Suidhe, petite antécime que j'ai déjà gravi en 99, et l'estuaire du Loch Lihne avec Fort William.
View to Meall an t-Suidhe, small secondary top that I climbed in 99, and the firth of Loch Linhe with Fort William.
---

Le Caledonian Canal, qui relie Loch Linhe (donc l'Océan) au Loch Ness (dont la rivière du même nom donne sur la mer du Nord), sous un arc-en-ciel. Puis, le cirque central du Ben Nevis, vers lequel je me dirige. Avec un à-pic de 1000m, c'est l'un des lieux les plus alpins d'Ecosse. Malheureusement le temps d'aujourd'hui ne permet pas de l'apprécier dans toute sa dimension.
The Caledonian Canal, which links Loch Linhe (then the Océan) to Loch Ness (whose same name's river goes to the Northern Sea), under a rainbow. Then, the central corrie of Ben Nevis, in which I am heading. With cliffs more than 1000m heigh, it is one of the most alpine places in Scotland. Unfortunately today's weather doesn't allow appreciating it in all its dimension
---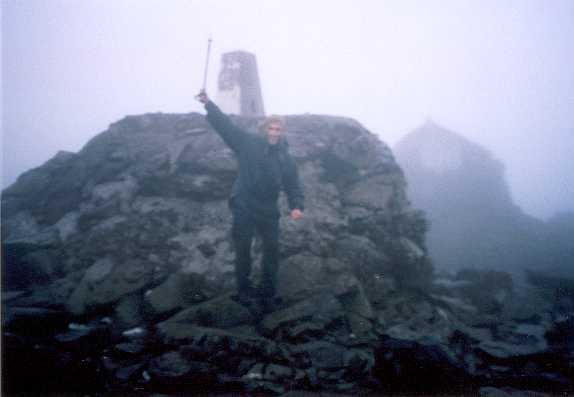 Bien plus tard, au sommet de Ben Nevis et après un parcours de l'arête dans un brouillard complet. Première réapparition du paysage avec le Loch Lùnn Dà Bhrà.
Very much later, on the top of Ben Nevis and after a ride on the ridge in a thick mist. First reapparition of the landcape with the Loch Lùnn Dà Bhrà.
---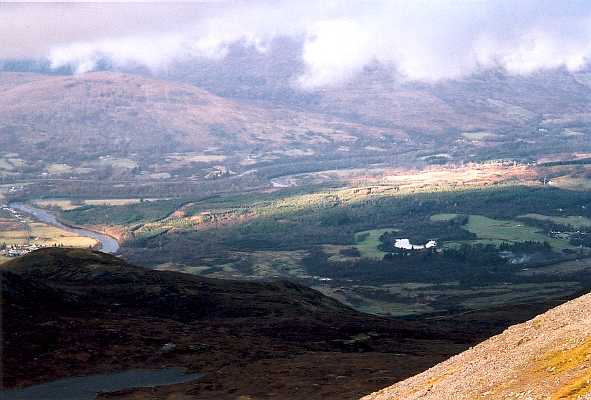 Descente à nouveau par la voie normale, celle que je n'ai même pas voulu prendre le matin !
Going down by the normal route, the one I didn't want to take the same morning !
---

Une fois revenu au Lochan Meall an t-Suidhe.
Once back to the Lochan Meall an t-Suidhe.
---

Je savoure quelques instants de solitude sur les rives tranquiles de ce charmant petit lac de montagne.
I savour few moments of loneliness on the quiet shores of this charming little mountain lake.
---

Revenu au fond de la vallée: coucher de soleil sur la rivière Nevis. En aval, la silhouette inquiétante de Stob Ban. Fin de l'expédition 2003 ! J'ai amassé quelques idées pour 2004... qui sait ?
Once back to the bottom of the valley: sunset on the Nevis river. Looking upstream, the worrying shape of Stob Ban. End of the 2003 expedition ! I collected few ideas for 2004... who knows ?
---
Autres Ascensions - Other Mountaineerings
Contact

Retour à... - Back to...