Cliquez pour élargir ; Click to enlarge

Sgor an Lubhair 1099 m
Stob Ban 1001 m
Mullach nan Coirean 939 m
09/11/03



Journée très prolifique en sommets. Voyant le beau temps s'installer, plutôt que le Ben Nevis bondé, j'ai donné la priorité au complexe et riche massif des Mamores. Depuis Achriabhach, il compte deux ou trois courses avec pas moins de 3 ou 4 sommets à portée de main ! Un départ tardif m'incita à faire une croix sur Sgurr a'Mhaim, et le "Devil's ridge" qui le relie à Sgor an Lubhair, mais le reste de la journée fut un carton plein. Très grande boucle, puisque plutôt que revenir à nouveau par la route au Youth Hostel, je descendis côté Sud sur le West Highland Way, légèrement en aval de Lùnn Dà Bhrà, et achever mon retour dans l'obscurité complète.

Very prolific day in summits. Seeing the good weather confirmed, rather than a crowded Ben Nevis, I gave the priority to the rich and complex massif of the Mamores. From Achriabhach, it has about two or three hikes with no less than 3 or 4 tops in reach of hand ! A late start made me cancel anyway Sgurr a'Mhaim, and the "Devil's ridge" that links it to Sgor an Lubhair, but the rest of the day was a blast. Very long loop, since instead of coming back by the road to the Youth Hostel, I climbed down to the South side to the West Highland Way, a little further downstream from Lùnn Dà Bhrà, and finish my return in the complete darkness.
---

Temps encore mitigé, en partant le matin, en longeant la route jusqu'à Achriabhach.
Still wet weather, when starting in the morning, heading along the road to Achriabhach.
---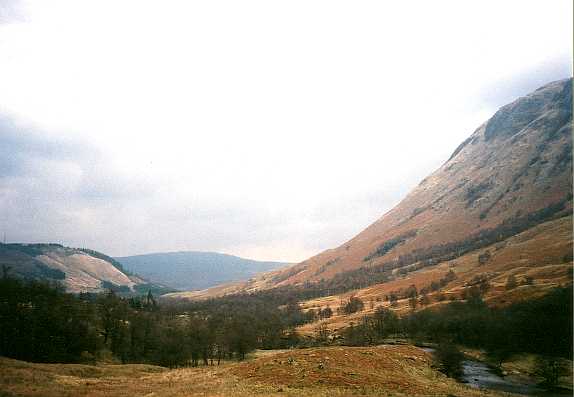 Vue sur la vallée du Glen Nevis, avec la masse du grand Ben à droite.
Looking down to the Glen Nevis, with the mass of the Big Ben on the right.
---

Plus haut dans la vallée, à l'approche du col dans le Coire Riabhach, sous les falaises Ouest de Sgor an Lubhair, que je monterai par la gauche et que je descendrai par la droite. Au centre, dans le creux, se situe le petit laquet sans nom, que l'on voit à droite sous la silhouette impressionante de Stob Ban.
Higher up, arriving to the col in Coire Riabhach, under the West cliffs of Sgor an Lubhair, that I climbed by the left grassy slope and unclimbed by the right side. In the middle hollow is located the small nameless lochan under Sgor an Lubhair, that you see on the right under the impressive shape of Stob Ban.
---

Du sommet de Sgor an Lubhair, vue à l'Est sur d'autres sommets du massif des Mamores: Am Bodach, Stob Coire a' Chairn, An Gearanach, etc..
From Sgor an Lubhair's summit, looking East to others summits of the Mamores massif: Am Bodach, Stob Coire a' Chairn, An Gearanach, etc...
---

En redescendant au col médian: vue sur la crête acérée de Stob Ban, qui n'est pas le point culminant de la randonnée mais sans conteste le sommet le plus caractérisé. Stob Ban, comme l'indique son nom, est tout de pierre blanches.
Climbing down back to the medium col: view to the sharp crest of Stob Ban, which is not the highest point of this walk, but undoubtly the most characterized summit. Stob Ban, as its name tells, is all made of white stones.
---

Vue sur la suite de la randonnée, vers Mullach nan Coirean. Le long de cette longue arête, la roche devient subitement du granite rouge. Le soleil rasant accentue encore ces couleurs surprenantes.
Looking forward to the end of the walk, to Mullach nan Coirean. Along this long crest, the rocks turn suddenly into red granite. The low sun is emphasing even more these surprising colours.
---

La crête, décidément très escarpée côté Ouest. Tout au fond à droite, le cairn sommital de Mullach nan Coirean. Pas un chat. La planète Mars !
The crest, definitely sharp on its West slope. Far away on the right, the summit cairn of Mullach nan Coirean. A no man's land. The planet Mars !
---

Ou un décor digne du Seigneur des Anneaux... Vue au Sud, vers les monts de Glencoe: le fameux ridge, dans un premier plan, puis Bidean Nam Bian, plus en retrait au fond.
Or rather a scenery worth the King of the Rings... Looking South, to the tops of Glencoe: the famous ridge, in a first foreground, and Bidean Nam Bian, a bit further behind.
---
Autres Ascensions - Other Mountaineerings
Contact

Retour à... - Back to...