Cliffs of Moher
---
Les falaises de Moher sont le principal point d'attraction dans le conté de Clare. Mieux que celles d'Etretat en Bretagne, disent les spécialistes. 200m d'à pic sur plusieurs kilomètres, du haut desquels les vagues s'échouant sur la grève ne semblent être guère plus que de la mousse de produit vaisselle !
The cliffs of Moher are the principal attraction in the county CLare. Better than Etretat in French Britanny, are saying some specialists. 200m of height over a few kilometers, from whose top waves smashing the shores underneath don't seem to be more than lather of dishwashing liquid !

---

Les Cliffs, et O'Brien's tower
The Cliffs, and O'Brien's tower
---

Entre chaque crique tourbillonnent les macareux, ces especes d'oiseaux clowns a l'ai triste...
Inside each gap are flying a lot of puffins, these birds who looks like sad clowns
---

Des sculptures au bas des falaises
Sculptures at the bottom of the cliffs
---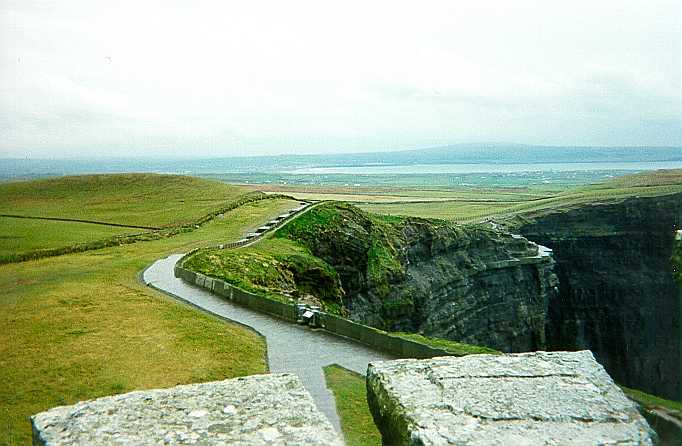 En haut de la tour O'Brien
On top of O'Brien's tower
---

Quelques vues renversantes..
Some bending views..
---
---
---
---
Continuons le voyage ! Keep travelling !
Contact