Reka Soča
13/08/07

Cliquez pour élargir ; Click to enlarge



Troisième volet des aventures dans les montagnes Slovènes, nous sommes à nouveau dans les « Alpes Juliennes », à Bovec, la Mecque Européenne des sports d'eau : Kayak, canyoning, hydrospeed, rafting... Ici coule la Reka Soča (« sotcha »), dont le lit de galets blanc laisse éclater toute la luminosité des eaux bleutées, gorgées d'oxygène et glaciales. Beau temps dans les vallées mais cimes accrochées ; Nous choisimes le premier jour de faire le célèbre « sentier de la Soča », qui n'est autre que le sentier longeant ses rives, parfois au gré de vertigineuses passerelles. Ce fut le premier sentier balisé lors de la création du Parc National du Triglav, qui remonte à fort longtemps. Le second, nous ne pûmes résister à l'envie de goûter pour de vrai à cette eau féérique, en nous payant une descente de rafting.

Third part our adventures in the Slovenian mountains, back in the « Julian Alpes », in Bovec, the European capital of water sports: Kayak of course, canyoning, hydrospeed, rafting... Here flows the Reka Soča (« sotsha »), whose bed of white stones enhance the blue brightness of its pure waters, freezing and packed with oxygen. Nice weather in the valleys but cloudy tops: we chose to spend the first day on the famous "Soča trail", which is nothing else than the path along the shores, occasionally on vertiginous suspended bridges. This was the first marked trail at the creation of the Triglav National Park, quite long ago. The second day, we wouldn't resist to try for good these fairy-like waters, booking a rafting descent.


---



La vallée de Bovec, au matin.
The Bovec valley in the morning.
---

La vallée de Bovec, et au fond le Visoki Kanin.
The Bovec valley, and in the backgroud the Visoki Kanin.
---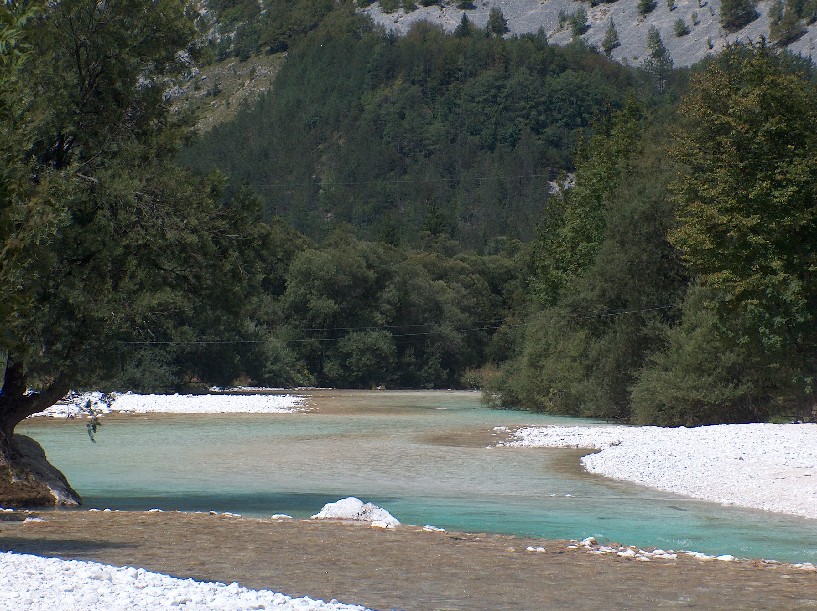 Première prise de connaissance avec "Reka Soča", la rivière "Sotcha".
First acquaintance with "Reka Soča", the "Sotsha" river.
---

Petite ballade aux alentours. En plusieurs endroits, des passerelles vertigineuses permettent de passer d'une rive à l'autre.
Little walk in the surroundings. In many places, some vertiginous bridges allow to go from one shore to the other.
---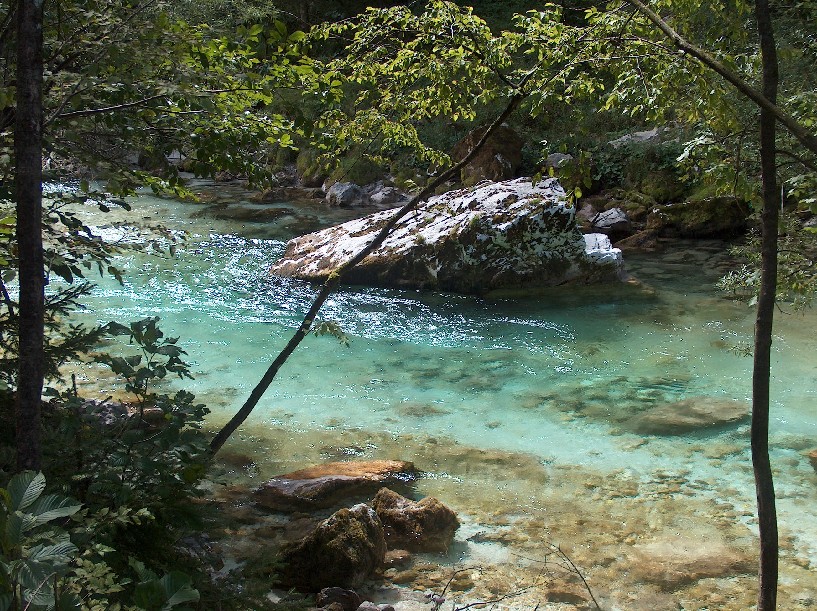 Des eaux d'un bleu féérique.
The waters are made of a fairy-like blue.
---

Une seule envie: se jeter dedans !
Only one envy: to jump in it !
---

Tantôt tranquille...
Once peaceful...
---

Tantôt rapide... Once rapid...
---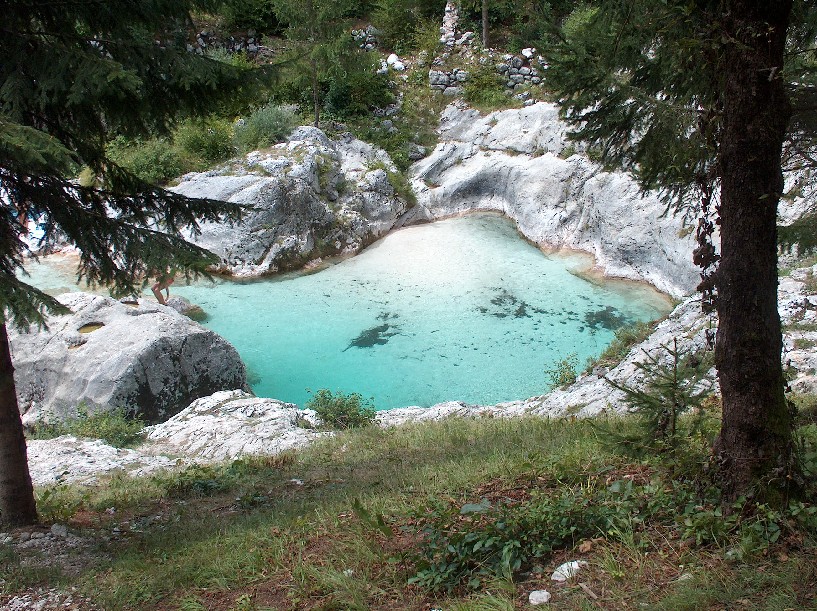 Tantôt d'étroits passages, tantôt des tranquilles mares.
Once some narrow passes, once quiet ponds.
---

L'érosion de l'eau a par endroits sculpté de surprenantes formes.
The water erosion sculpted in some place surprising shapes.
---

Papillon, et jolie maison qui nous a plu. Fin de la ballade et du reportage photo, en ce qui nous concerne nous n'y tenons plus, il nous faut aller faire un plouf dans cette eau... Butterfly, and fine house which we liked. End of the walk and the photo-report, as for us we can't wait longer, we must absolutely go and jump to try this water...
---
Autres endroits - Other places
Liens - Links
Contact