La Côte Atlantique Médocaine
The Médoc's Atlantic Coast
---
Ces Images de l'océan ont été prises pour la plupart entre Carcans et Soulac, juste en dessous de l'embouchure de la Gironde, durant ces 10 dernières années par mon père et moi.
This Oceanic sceneries have been taken for most of them between Carcans and Soulac, just under the firth of La Gironde (river la Garonne), during these last 10 years by me and my father.
---
---

Cette partie du Golfe de Gascogne, dû à son isolement derrière la Gironde, est une de celles qui ont préservé le mieux leur aspect naturel, et où l'immensité désertique du littoral frappe le regard.
This part of the Gulf of Gascogne, due to its isolation behind La Gironde, is one of those which preserved the best its natural aspect, and where the desertic immensity of the littoral hit the sight.
---
---
---
---
---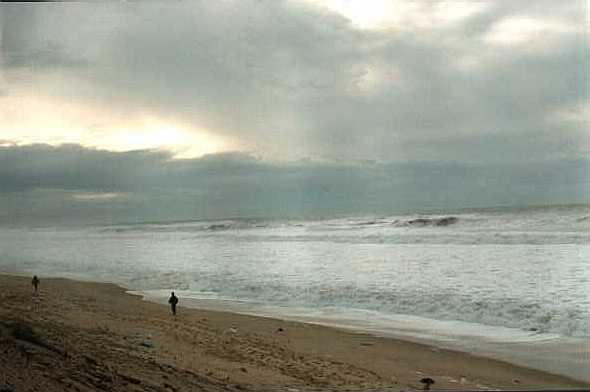 ---

Dans le ciel crépusculaire brille déjà au Nord le phare de Cordouan, bordant l'embouchure de la Gironde. A peine 40 km à vol d'oiseau le séparent de la suite du littoral Atlantique, en Charente, et pourtant, quelle différence, tant au niveau culturel que du caractère de la côte une fois la traversée effectuée ! Il semble qu'un pas, vers la si distante mais déjà proche Bretagne, a été franchi.
In the dawn sky is already shining on the North the light tower of Cordouan, standing on the Gironde's firth edge. About 40 straight kms separate it from the rest of the Atlantic coast, in Charente region, and what a difference anyway , as much in the cultural aspect as in the coast's character once the crossing done ! It seems that a step, to the so distant but already close Brittany, has been done.
---
Restez ici pour le coucher de soleil ! (suite...)
Stay here for the sunset ! (suite...)
---
Autres lieux du Sud Ouest de la France - Other places in South West France
Contact