Baie sur Loch Sunart près de Strontian - Bay of Loch Sunart near Strontian
Ardnamurchan
---
Cliquez pour élargir ; Click to enlarge

---
Cette gallerie de photos, même jolie, n'égalera jamais la vraie splendeur du site qu'est Ardnamurchan, péninsule isolée située au dessus de l'Ile de Mull, un des lieux les plus paradisiaques au monde que je n'aie jamais vu (Je l'affirme sans exagérer). Distante de toute civilisation, surtout en temps à cause de son unique route 1 voie qui serpente durant tout le trajet, cette région connue pour être la plus occidentale de la Grande Bretagne sans les Iles (ce qui est une absurdité: la G.B. n'est-elle déjà pas une Ile ?), a préservé une nature intacte, alternant plages de sable blanc tropicales (sauf en température), et collines verdoyantes où les cerfs n'ont jamais appris à se méfier des hommes...
This gallery of pictures, even nice, will never reach the real splendour that is Ardnamurchan, isolated promontory upside the Isle of Mull, one of the most paradisiac places in the world I have ever seen (I assert it without any exageration). Remote from any civilisation, especially in time because of its only single lane road which serpents all the way long, this region well known for beeing the most western in Great Britain without the islands (which is an absurdity: is the G.B. not already an island ?), has preserved an intact nature, alternating tropical (excepted in temperature) white sand beaches, and green hills where stags never had to learnt to be wary about human presence...
---



Plage de rochers roses sur Loch Sunart avant Salen
Pink stones beach on Loch Sunart before Salen
---



Autre baie près de Glenborrodale
Other bay near Glenborrodale
---



Loch Sunart s'élargit, la rive opposée devient celle de l'Ile de Mull. Imperturbables, ces moutons !
Loch Sunart enlarges, the opposite shore become the one of Isle of Mull. Undisruptable, this sheep !
---



Des prairies fleuries tandis que nous approchons Sanna Bay.
Flowery meadows while we are approaching Sanna bay
---



Les calanques de Sanna Bay
The callanques of Sanna Bay
---



Sanna Bay vue depuis la colline qui la sépare d'Ardnamurchan Point
Sanna Bay seen from the hill which separates it from Ardnamurchan Point
---



Splendide horizon constitué des reliefs des Iles de Muck, Eigg et Rum. Nous distinguons même les Cuillins de l'Isle of SkyeIle de Skye entre ces deux dernières.
Splendid horizon composed of the reliefs of the isles of Muck, Eigg and Rum. We even notice the Cuillins from Isle of Skye between the two last.
---



La Baie d'Ardnamurchan Point et son phare. Celui ci contient un centre d'observation de la vie marine. Par chance on y apperçoit parfois des dauphins au loin (voir page sur la vie animale côtière)
the bay of Ardnamurchan Point and its lighthouse. This one includes an observaion centre of oceanic wildlife. By chance we can watch sometimes dolphins far away (see coast's wildlife page)
---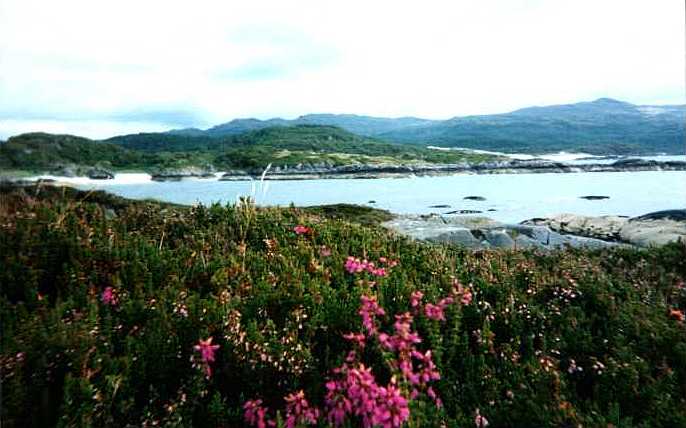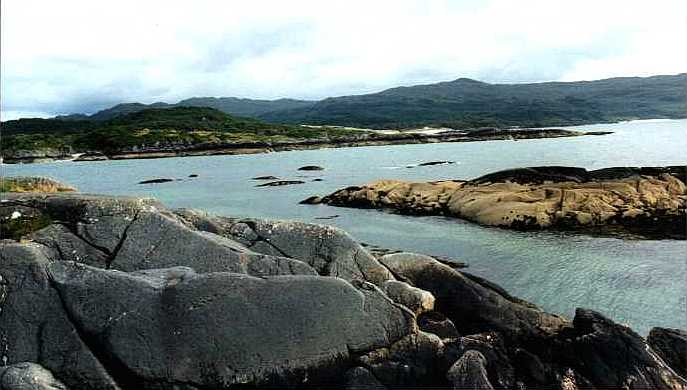 De retour, par le Nord cette fois ci: une baie à Ardtoe
On the way back, by the Northern side: a bay near Ardtoe
---



Ne jamais défier Eric avec des paris stupides !
Nerver defy Eric with stupids bets !
---



La même baie vue d'en haut d'un rocher - Coucher de soleil à travers une crique près de Glenuig
The same bay seen from a rock's summit - Sunset through a creek near Glenuig
---
Sur le Littoral d'Ecosse: - On the Scottish Coasts :
Contact