Ben Lomond 973 m
7/05/99
Cliquez pour élargir ; Click to enlarge

---
Courte randonnée effectuée par moi seul en une matinée, avant les exams. Erreur stratégique, peut être car le brouillard m'a non seulement empêché toute vue du sommet mais aussi interdit la redescente par Ptarmigan, qui aurait permis une boucle. A refaire un jour..
Short walk done by myself in one morning, before the exams. Strategic mistake, perhaps, because the fog empeached me firstly any summit view, but also the way back down by Ptarmigan, which would have allowed making a loop. To do again another day..
---

La base de Ben Lomond, le matin, de très, très bonne heure: Cliquez pour élargir.
The base of Ben Lomomd, in the very, very, early morning: Clic to enlarge.
---
En sortant de Queen Elizabeth Forest Park.
Coming out Queen Elizabeth Forest Park.

---
Toutes les suivantes ne sont pas de moi... (le soleil brille !)
All the followings are not from me... (the sun shines !)

---



L'autre versant vu du sommet
The other slope seen from summit
---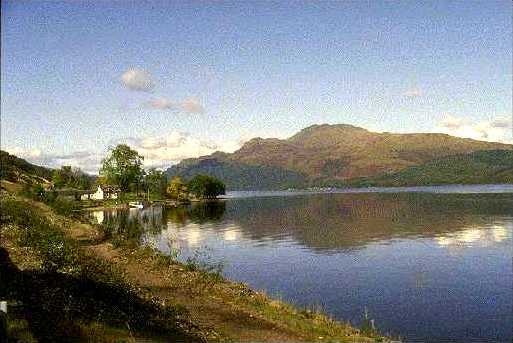 Ben Lomond et Ptarmigan, son épaule gauche
Ben Lomond and Ptarmigan, its left shoulder
---
Autres Ascensions - Other Mountaineerings
Contact